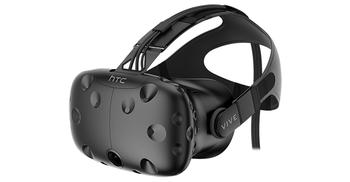 A few eyebrows were raised when HTC and Valve announced that the Vive virtual reality system would become available for pre-order on February 29 at a jaw-dropping cost of $799.
First-generation tech never tends to be cheap, but the figure came as a surprise to those who were expecting Vive to be priced similarly to the rival Oculus Rift, which went up for pre-order at $599. The staggering cost doesn't appear to have slowed sales, however, as Vive pre-orders were met by terrific demand with an estimated 25 units sold every second for the first 10 minutes.
Although official sales numbers are yet to be revealed, HTC's virtual-reality developer, Shen Ye, provided insight into units shipped by tweeting "Woah, more than 15k units in less than 10min."
For UK consumers, the Vive system is priced at £689, or £746.60 including delivery. That amount of money will buy you the headset itself, complete with two integrated 1,080x1,200 screens, a pair of wireless controllers, two base stations, a link box, earbuds and three bundled apps: Job Simulator, Fantastic Contraption and Tilt Brush. You don't, of course, get the powerful PC you'll need to drive available content.
High-quality virtual reality isn't going to be cheap, at least not for the foreseeable future, but it will be fascinating to see how consumers take to the technology. Vive pre-orders are expected to begin shipping next month, shortly after the arrival of the competing Oculus Rift.