Introduction
Creative Technology has been synonymous with PC-related audio for much of its 35-year existence. The Sound Blaster range of cards were the primary solution for improving the audio experience on your computer, but recent advances for integrated high-definition sound have curtailed the use of add-in cards.
The company has since looked at new ways to forge products that rely on its audio expertise, with PC speakers, USB cards, audio players and ear/headphones continuing the tradition. Realising that Bluetooth speakers have become fertile ground since the mass uptake of smartphones, Creative has since released the portable Muvo and Roar series.
Expanding on the well-received Sound Blaster Roar is the suitably named Sound Blaster Roar 2. Last year's model was critically acclaimed as a premium speaker with a serious musical and bass punch. This year's arrival, available in either black or white, touts the same underlying five-speaker technology but shoehorns it into a package that's 20 per cent smaller and 10 per cent lighter.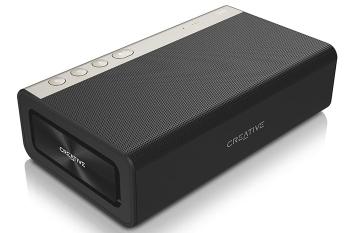 Features, spec and build
Mind you, smaller it may be, but this is no shrinking violet. 188mm wide, 109mm tall and 51mm thick, the Roar 2 weighs a tasty 1kg and naturally brings the question of genuine portability into sharper relief. It's all too easy to call it brick-like, though such an adjective is meant as a compliment rather than a detraction. Build quality remains excellent between generations, so while it's sometimes wrong to judge a product by dint of pure heft, the Roar 2 makes a suitably solid first impression.
Enclosing the same number and size of speakers into a smaller enclosure has meant that Creative rejigs their location somewhat. The two tweeter now sit alongside the main driver rather than towards the top, though the side-mounted woofers remain in place. The subtle design difference enables the Roar 2 to be positioned horizontally as well as vertically whereas the previous model lay best in the orientation shown in the picture, above.
One could argue that the transition between Roars should have been met with an overhaul of the speakers, not just their location, yet Creative is so confident in their room-filling sound that it wasn't deemed necessary. Being mains-free by design, the Roar carries the same 6,000mAh lithium-ion battery as the original, which is good for approximately eight hours of use from a full charge. Three green LEDs provide an at-a-glance idea of how much power is left in the battery.
Juice is supplied by either the bundled adapter or, at a slower rate, a USB cable to your computer. Informal tests showed it took about three hours to charge completely when attached to the mains. Should you so wish, the Roar 2, via the 5V/1A port, can be used as a rather expensive battery pack for charging your smartphone in an emergency.
It's not all inter-generational improvements, mind, as the Roar 2 loses the original's 'megastereo' ability where two could be connected to each other and serve as left and right stereo speakers in a bigger setup. This newer model also arrives at a retail price of £150, or £20 more than last year's Roar.

The unit itself bucks the recent trend towards minimalism by having no fewer than 11 buttons, an exposed input section, and a couple of switches. I'm not a fan of the exposed buttons, particularly if the unit is used in the kitchen or bathroom, so would encourage Creative to add a flap on the left-hand side. What this is is old-school buttonage straight out of the '80s. It's worth spending a little time discussing the surfeit of buttons because they provide some important value-adds for the speaker.
The USB port has a second function when attached to a PC because it can also function as a host audio device for playback if your regular speakers are not up to snuff. PC and Mac users can both download, free of charge, Creative's Sound Blaster Control Panel for tweaking the sound profile to their taste. It works well in practice, but bear in mind that using the Roar 2 as PC speakers is not its primary purpose.
Sticking in a song-carrying microSD card and flicking to mass-storage mode turns the unit into an impromptu MP3 player, though with no screen from which to select the songs or know what's coming next, it's limited in scope. Playback wise, the Roar 2 supports better quality sound through aptX wireless bandwidth-reducing technology. It's worth knowing that, from the card, the Roar 2 supports only MP3 and WAV files, not the better quality FLAC, and while the USB port is good for charging, it doesn't support playback of music from the ubiquitous drive. Those who want to connect their own devices can do so via the 3.5mm aux-in jack next to the power inlet.
An internal microphone situated near the bottom of the chassis offers up the possibility of using it as a wireless speakerphone when connected to a smartphone via either Bluetooth or, easier still, NFC. It'll record conversations, too, and these kinds of touches make it more than just a mere external speaker. Last but not least, there's a bedtime function where the sound gradually fades out after 30 minutes of microSD card playback.