Introduction
TP-Link's portfolio of networking products for the home or office continues to grow at a rapid pace and has in recent years been expanded to include a range of cloud cameras.
Designed to be affordable and simple to use, the range includes a choice of five models and is now headlined by the NC250 HD Day/Night Cloud Camera that's under the spotlight today. Priced at just under £60, this compact device promises "a fast and trouble free way to keep track on what's going on in and around the home." Let's see if that claim holds true.
First impressions are favourable. The compact indoor device measures just 137mm (H) x 76mm (W) x 69mm (D) in size and the glossy white aesthetic is a natural fit for the modern home. TP-Link's stand feels suitably sturdy, and the camera itself attaches via a ball-and-socket hinge that helps make it easy to find an optimal angle.
In terms of underlying hardware, there's nothing overly fancy. NC250 is outfitted with a 1/4in CMOS sensor with a 64º field of view and capable of capturing footage at a maximum resolution of 1,280x720. Digital zoom at 4x is available if needed, while a built-in microphone captures audio, and the device sets itself apart from others in the range via a built-in night vision function. Using infrared LEDs, the camera provides a surprisingly good view in dark environments at a range of roughly 18ft.
Connectivity is streamlined, with the rear of the unit home to only Ethernet and power connectors, as well as a small WPS WiFi connection button. Integrated 300Mbps wireless allows for the camera to be installed away from your router, and TP-Link pays extra attention to deployment scenarios. There's a power extension cable included in the bundle, as well as a sticky pad that can be used to attach the camera to a wall. Should you prefer a more sturdy solution, the NC250's stand will open to reveal two screw holes that are ideal for installing the unit on a ceiling.
Easy setup is a key selling point, but TP-Link narrows the target audience by requiring an iPhone or Android smartphone to complete initial setup. I'm sure I'm in the minority here, but I'm old school and I prefer to setup my network equipment via a web browser without having to download additional apps.
Happen to have a compatible smartphone? Then setup is relatively straightforward. To begin with, attach the camera to a power outlet and connect it to your router to place it on the same network as your phone (all the required cables are supplied). When the camera's front LED turns green, load up the tpCamera app (email registration required) and the installed model should quickly be discovered.
With the camera identified, users can choose to keep the device connected to the network via wire, or switch to WiFi. Choosing the latter is as simple as selecting the WiFi network from a list and entering your password, and though a wireless connection may inevitably prove to be less reliable, it does have the advantage of making the NC250 easier to relocate.
The initial setup should take just a few minutes and once complete the app provides a live camera view alongside a set of very basic controls. The image can be flipped, night vision can be toggled on/off or set to auto (the default), audio volume can be adjusted, and two larger buttons serve as shortcuts to record video in H.264 format or capture a JPEG image for storing in the archive.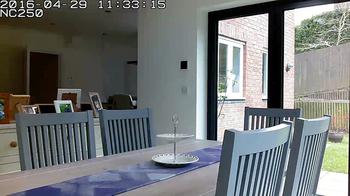 Image quality is decent for a compact 720p camera, though the somewhat narrow field of view can make it tricky to cover large areas. There is visible pixilation, and colour reproduction isn't as accurate as we'd like, however the image is clear enough for TP-Link's intended usage scenarios, and the live stream proved to be smooth and responsive throughout our testing.
Speaking of usage scenarios, where does a camera such as the NC250 actually make sense? The device isn't a full-featured surveillance solution but serves instead as a window to a remote location for hassle-free, convenient viewing. Want to see what's happening at home while you're on holiday? Want to be able to keep an eye on your pet while you're out of the house? Or perhaps you want to check-in every once in a while on a senior friend or relative? The NC250 handles such tasks with minimal fuss.