Forerunner 110 in action
In use, the Forerunner 110 is something of a mixed bag. Its simplicity has to be applauded, but a lack of features can leave you feeling short changed.
Let's start with the simplicity. Take the 110 outdoors and its integrated high-sensitivity SiRFstarIV receiver will quickly lock on to orbiting satellites.
On average, I've found the watch takes under 20 seconds to get a fix on my location; that's about as quick as it gets, and the 110 has shown no trouble finding a satellite when used in heavily wooded areas.
When you're locked on, hit start and away you go. Although designed primarily for running, there's nothing stopping you from tracking data during other activities such as cycling and hiking.
Whilst on the move, the 110 displays the distance covered in miles (or kilometres if your prefer), the duration of your exercise, and the average pace of your current lap. Lap length can be pre-defined in .25 mile increments from 0.25 miles up to a maximum of 2 miles.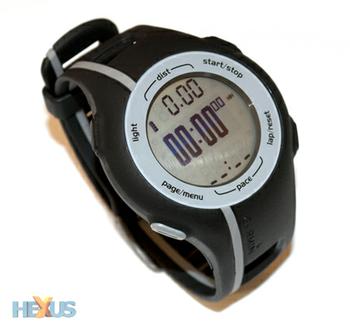 Once you've reached the end of your route - or in my case ability - hit stop and you'll be able to see two crucial pieces of information; how far and how fast.
Reset the counter and your workout is saved onto the 110's internal memory. Up to 200 hours of data can be stored, and though previous workouts can be viewed on the watch itself, the data can be brought to life by synchronising the 110 to the Garmin Connect website.
Registration is required, but it's free and signing up will ensure you make the most of your workout data.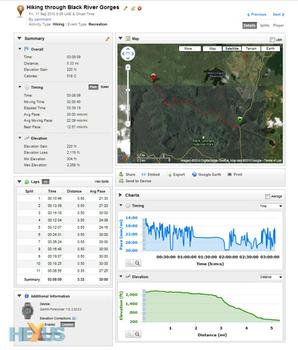 Upload your workouts to Garmin Connect via USB, and the site expands on basic time and distance information by mapping your route on Google Maps or Google Earth.
The Connect site also breaks down your average pace per lap, as well as showing elevation gain/loss. There's more than enough data to keep both amateur and serious runners entertained, and recorded workouts can be easily shared with friends and family.
Users in need of further motivation will also welcome Connect's ability to set goals; they can be used to ensure you cover a certain distance per calendar week, for example.
It's cleverly done, intuitive, easy to use, and perhaps more importantly, it's a lot of fun. The above example shows a recent hike through the Black River Gorges whilst on holiday in Mauritius - a fantastic three-hour trek that descends through a rainforest from 2,258ft down to 304ft.
Do you need the heart-rate monitor?
The reviewed unisex Forerunner 110 doesn't ship with a bundled heart-rate monitor, but the watch is compatible with any ANT+ strap and is able to wirelessly record and report heart rate in beats per minute.
Buying Garmin's own heart-rate monitor will set you back a further £44.99, but doing so will allow the watch to precisely record your heart-rate and consequently produce a more accurate calorie count.
It's overkill for casual runners, but for those wanting to train by heart-rate as opposed to pace, the monitor could be a valuable tool.
What didn't make the cut
The Forerunner 110 acts as an excellent motivational tool, and when it comes to tracking distance, time and pace, it's very accurate. But factor in the £169.99 starting price and you can't help but wonder if it ought to do more.
Although the 110 is incredibly easy to use, the simplified design has resulted in a drastic trimming of features. Newcomers to the Forerunner range aren't likely to miss them, but for experienced users, the 110 may be found lacking. There's no option to create or mark frequently-used courses, there's no auto-pause when your pace drops below a certain speed, there's no Virtual Partner to train against, you can't create custom workouts, and there's no alarm to help you maintain a certain pace.
The 52 x 30-pixel display is also limited in size, and though time, distance and average pace are displayed clearly, there's no way to view elevation directly from the watch; that data is only available when synched to the Garmin Connect website. Similarly, the on-screen workout history displays only basic information; there's currently no way to dig deeper and examine individual laps on the watch itself.
Arguably the 110's biggest shortcoming, however, is its inability to display current pace. Instead of telling you how quick you're going, it reports your average pace for the current lap. That's sufficient for casual users, but the omission of current pace is certainly going to irk runners who're accustomed to interval training.
Even the number of supported accessories is hampered. Garmin's Forerunner 110 doesn't support cadence sensors or Garmin's own Foot Pod; meaning distance can't be tracked when used indoors, on a treadmill, for example.
And, if you're thinking of recording your swims, the 110 is water resistant but not waterproof. Rated as IPX7, it's said to be able to "withstand accidental immersion in one meter of water for up to 30 minutes", but you wouldn't want to wear it in a pool.