Storyline
Can you give an overview of Diablo III's storyline?
It has been twenty years since the events of Diablo II. Of those who faced the Lords of Hatred, Terror, and Destruction in the battle over the fate of Sanctuary, there are few still living who can bear to remember the horrors that the Prime Evils wrought upon the world. And of those who did not witness the terrible events firsthand, most believe the stories to be little more than myth. But something evil is stirring once again in Tristram, and it may already have claimed its first victim: Deckard Cain.

Will there be any other familiar faces in Diablo III (other than Deckard Cain)?
Yes. Players will encounter several new characters as well as a number of characters from the previous games.

Will players be visiting any familiar locations in Diablo III, such as Tristram?
Yes, definitely. Players will return to Tristram and certain other locations from the previous games, and they'll be exploring new areas of Sanctuary as well.

How many character classes are included in Diablo III? What are they?
Five character classes will be included in the game, two of which, the barbarian and witch doctor, were revealed when the game was announced at the 2008 Blizzard Entertainment Worldwide Invitational. The other classes will be announced at a later date.

Will players be able to choose the gender of their character, regardless of class?
Yes. Players will be able to create male and female characters for all five classes.

Will Diablo III be playable over Battle.net? What new features can we expect?
Yes, Diablo III will be playable over Battle.net, and Battle.net will offer some exciting new features to enhance players' Diablo III experience. We'll announce specifics and go into much more detail at a later date.

Will there be a single-player component in addition to multiplayer?
Yes. In addition to battling the hordes of the Burning Hells cooperatively with friends over Battle.net, players will be able to adventure through the world of Diablo III solo. More details on both the single-player and multiplayer experience will be revealed at a later date.

What will questing be like in Diablo III? Will it be similar to Diablo II?
Our plans for the story and quest mechanics are still under wraps. We'll go into detail on those elements of the game at a later date. We can say, however, that we expect to have class-based quests in addition to the main story-line quests.

TECHNICAL ASPECTS
What engine is Diablo III running on? What graphical enhancements are included?
Diablo III runs on a custom 3D game engine for rendering full-3D characters and environments. The 3D game engine not only simulates advanced animation sequences and sound effects, but also uses a custom physics engine that allows for realistic object dynamics and cloth simulation.

What are the system requirements for Diablo III?
We'll announce specific system requirements at a later date.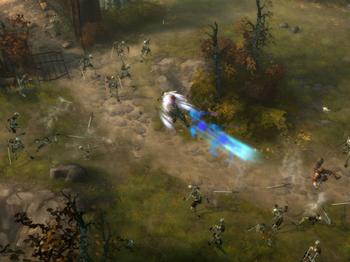 Continued overleaf...