id Software goes mutant bashing on the small screen
id Software's hit iOS game Rage HD has been doing the rounds since late 2010, but a brand new update this week delivers optimisation for iOS 4 and the iPad 2 which makes it well worth a re-visit.

The update to Version 1.21 weighs in at 747mb and is available from the App Store if you already have the game, but will be automatically be included if you're downloading this delightful mutant blasting game for the first time.

Before we go into the ins and outs of the update and what it brings specifically to the iPad 2, let's talk about the game. Developed by iD Software (Doom, Wolfenstein and Quake) and published by Bethesda, Rage HD takes place in a post-apocalyptic near future setting where players compete on a T.V. show called Mutant Bash TV.

Rage HD is an on-rails shooter takes its inspiration from the likes of classic arcade shooters such as House Of The Dead and offers two different control schemes that require you to either tilt or tap. Using the tilt functionality of the iPad 2 works well enough, but it's something of a novelty that soon wears off; and is perhaps far more suited to smaller Apple devices rather than the more bulky weight that the iPad 2 carries.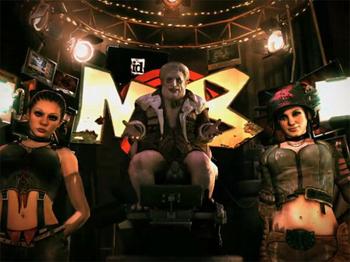 As a result, the touchscreen controls feel far more intuitive that tilting, responding to your strokes and taps with extreme precision. Rage HD's on-rails camera floats and guides you from room to room as you annihilate mutants and it's a mechanic that lends itself well to this type of control scheme as all you really have to think about is aiming and shooting.