Fraggin' awesome
Version reviewed - Xbox 360

What is Modern Warfare 2?
Set five years after the events in Call of Duty 4, Modern Warfare 2 follows the plight of Sergeant Gary "Roach" Sanderson, a member of a commando unit known as Task Force 141 as he leads his army on a mission to stop the war between Russia and the U.S and bring to justice evil powermonger, Makarov.

Playing the game from five different perspectives, including undercover for the CIA as a Russian terrorist, the campaign is divided into acts in which you're tasked with completing typical first-person shooter objectives across the likes of Afghanistan, Rio De Janeiro and Washington. Among the missions on offer you're tasked with rescuing hostages, planting and detonating charges, defending a building from Russian onslaught, and completing a heart-pounding escort mission through enemy territory.

While the action in Modern Warfare 2 generally focuses on gunplay, giving you access to an arsenal of traditional army weapons, there are also stealth-based missions and vehicle-based objectives, giving you the opportunity to jump into the seat of a snowmobile, or partake in a boat chase across violent rapids.

Alongside the campaign mode is Special Ops co-op mode, which allows two players (online or offline) to join up and tackle a variety of objectives aimed at testing your skills with a range of weaponry across of variety of challenging terrains. The online multiplayer mode features the experience points and unlockable reward system from past iterations of the series and a host of game modes, including Search & Destroy, Demolition, Domination and Team Deathmatch.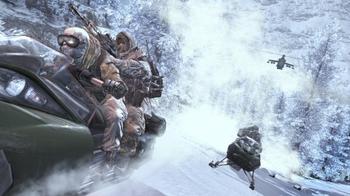 Gameplay impressions overleaf...