PRESS RELEASE
Outstanding Protection for the iPhone 4/4S with Incorporated Technology that Offers 100% extra Battery Capacity
Southampton, UK, 8th December, 2011; Urbanista, the Stockholm-based design concept shop which produces products geared towards the needs and fashions of urban living, launches its latest addition to their mobile phone accessory range - the Las Vegas PowerCase TM. In seeking to develop new and "on trend" solutions for the mobile urban person, Urbanista has developed this mobile phone case, which in addition to the traditional design and protection also provides the user with a 100% extra battery capacity.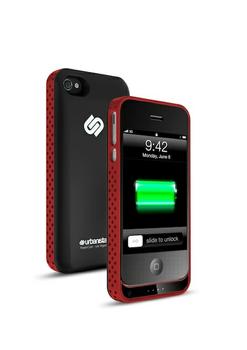 "The Apple® iPhone has become a necessary accessory and tool for our target audience. However, poor battery-performance has been a continual problem for iPhone users everywhere. When Urbanista wanted to expand its mobile phone accessory collection, it was natural - to include an "added value" compared to other mobile phone cases on the market." Stated John Wahlbäck, founder and CEO of AB Urbanista
The Las Vegas Power Case TM, coated with black rubber , comes with 3 pieces of different side panels, Dark Clown (black), Gun Metal (silver), and Red Snapper (red). This enables the user to vary the colour combinations of their choice. It also comes with a USB charge / release cord.
Technical Specification:
Las Vegas Power Case TM for iPhone4/4S
Capacity: 1500mAh (Li-polymer battery cell)
Output: 5V/500mA
Includes three side panels in different colours: Dark Clown / Gun Metal / Red Snapper
Material: ABS
Packaging: Blister Box
Dimensions: 129.5 x 62 x 14.9 mm
Weight: 70g
Price and Availability:
The Las Vegas PowerCase TM is available at MSRP £69.99 inc from http://uk.urbanista.com/
About Urbanista:
Urbanista was founded in 2010 by Johan Wahlbäck and Daniel Roos. The company's mission is to provides stylish yet functional, well made life-style tools that will simplify tasks in any urban environment. The focus for the products will be on their design, colour and mobility, and they will be innovative, smart and affordable.
Urbanista currently sells a range of personal audio devices, a portable folding bicycle; and a range of shopping trolleys. Additional product categories will be added during 2012.