A wearable smart-controller called the iRing has been shown off by IK Multimedia at the CES this year, allowing users to control effects and other parameters of their iOS music apps by simply moving their hand(s). I note that the rings are also Mac & PC compatible according to the specifications page but are not promoted as being so in the initial publicity blurb.
The iRing is a double-sided ring which is tracked by an iOS device's front-facing camera, where it determines the exact position/orientation of the wearable ring and tracks the different gestures that allow users to perform specific tasks and control up to six parameters in their music software. The ring itself can be worn between two fingers, and the company claims it's comfortable enough to have on whilst playing an instrument. It is a double sided ring with a linear dot pattern on one side and a triangular pattern on the other.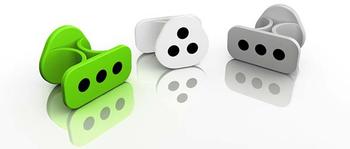 We are not surprised to see that the device so far revolves around music apps as IK Multimedia is well known as a music tech company with a passion for introducing many analogue to digital interfaces and dongles. IK Multimedia's website also reveals that is already making an SDK and free licensing program available to developers who are interested in using the motion-control technology for non-musical applications such as games, health/fitness and utility apps.
Pong...
The iRing will be sold at an impulse-buy friendly $25 (with two rings in the pack) and become available in white, silver and green during the first quarter of 2014. It will come with two free apps- iRing Music Maker which allows novices to make music using hand gestures and iRing FX/Controller that allows musicians and DJs to create custom MIDI control setups and add/control audio effects when used in conjunction with other 'Core MIDI' music apps via Inter-App Audio or Audiobus.