The proliferation of mobile devices has changed what we carry in our bags. For the tech-minded folk out there, the items on the top of our packing lists are often electrical, ranging from smartphones, tablets, laptops and, of course, all the applicable chargers and adapters.
But there are still two things a lot of these gadgets tend to need - an Internet connection first and foremost and, most probably, a means to recharge the batteries when a mains outlet isn't available. TP-Link claims to have both bases covered with the M5360 3G Mobile WiFi Power Bank.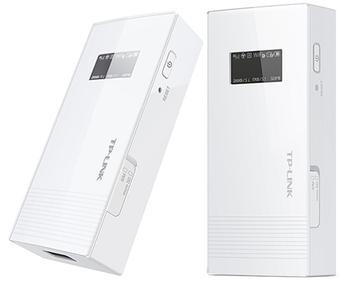 Currently available for £60, this pocketable 100mm x 45mm x 29mm device is essentially a 3G WiFi hotspot and powerbank in one. Sounds simple, yet we've used it frequently enough over the course of the past week to suggest that the M5360 will now be packed for all upcoming trips, be they business or personal.
Design and Features
Finished in a glossy white, the M3560 could be deemed an attractive accessory, though do be aware it is quite chunky and at 156g, is probably something you'd want to keep in your bag as opposed to your pocket. Connectivity is straightforward, with a micro USB input on top of the device for mains recharging via the bundled UK adapter, and a USB 2.0 port on the bottom for charging-up a phone/tablet.
TP-Link has opted for a medium-capacity 5,200mAh internal battery (non-removable) that outputs at a basic 5V/1A, making it best suited to small mobile devices. There's enough juice here to recharge a modern smartphone at least twice, or if you choose to use the powerbank as a 3G hotspot, TP-Link reckons you'll get up to 26 hours of light usage. Bandwidth-heavy apps will reduce that runtime to around 16 hours, and of course, using both the recharge and hotspot facilities at the same time will drain the battery much quicker than that.
Still, there's enough power here to get you through most long journeys, and TP-Link has widened the M5360's appeal by making it very easy to use. An OLED display provides at-a-glance status - including traffic stats, signal strength and a battery indicator - and a side-mounted power button is easily located in the dark. A double-press of this button switches between the two available operating modes - charging only, or 3G hotspot plus charging - and the former can be used to conserve battery when an Internet connection isn't required.
Speaking of which, the M5360 is operator unlocked and will accept any SIM card. Adapters are supplied for Micro or Nano form factors, and either can be installed beneath a basic flap. For testing purposes, we equipped the device with a T-Mobile SIM and it took next to no time to establish a 3G connection.
Connectivity and Admin
Supported networks include HSPA+/HSPA/UMTS/EDGE/GRPS/GSM, and the M5360 is capable of maximum download and upload speeds of up to 21.6Mbps and 5.8Mbps, respectively. Your mileage will of course vary depending upon operator and signal strength, but the available speed is ample for mobile devices, we feel, and up to 10 users can share the 3G hotspot simultaneously. SSID and password details are handily included on a sticker attached to the rear of the device, and it couldn't be much easier for multiple users to get online.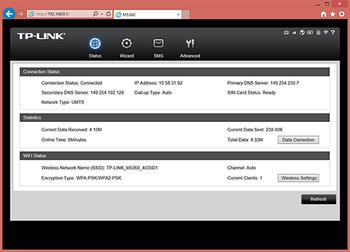 We suspect most will use the M5360 as it is, but for advanced users a built-in admin panel is available with finer configuration options. Accessible from the web browser of a connected device, the admin panel is split into four main sections - Status, Wizard, SMS and Advanced - and everything is laid out logically.
Changing wireless broadcast options is easy, as is setting a security key, and there's a good amount of flexibility. 802.11b/g/n are supported WiFi standards, WPA-PSK/WPA2-PSK are the available security choices and it's possible to enable MAC filtering if you feel the need. Wireless range proved more than sufficient to cover our mid-sized office, and in use the only obvious drawback we could find is that the device does become quite warm when active clients are connected.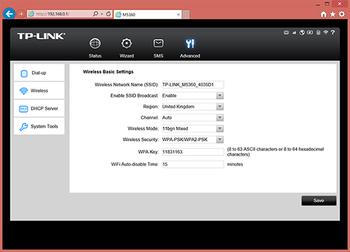 Could TP-Link have gone with 4G mobile and AC WiFi? Perhaps, but most probably at the expense of battery life, which obviously is a more pressing concern on a device of this nature. Instead, what we have are a couple of other unexpected value adds. There's an option in the admin panel to read and send SMS messages - the OLED display also notifies you when messages arrive - and TP-Link has also included an SD card slot. This supports capacities of up to 32GB, though do be aware the data can't be accessed or shared over wireless: you need to make a physical USB connection in order to use it as an external storage device.
Summary
More accomplished than a cumbersome USB dongle, the M5360 can be used by up to 10 clients, is operator unlocked, and thanks to a built-in 5,200mAh battery will keep you connected for at least a full day of work.

TP-Link's M5360 3G Mobile WiFi Power Bank is an ideal travel companion. Simple, sleek and very easy to use, it accomplishes its primary goal of sharing mobile data with aplomb.

More accomplished than a cumbersome USB dongle, the M5360 can be used by up to 10 clients, is operator unlocked, and thanks to a built-in 5,200mAh battery will keep you connected for at least a full day of work. The icing on the cake is that it can also act as a powerbank to recharge your mobile devices when they're running low.

Fed up of rapid battery drain when tethering your smartphone? In need of a better way to stay connected when on your travels? Or just want to keep the kids connected on long car journeys? TP-Link's M5360 fits the bill.

The Good

Very easy to setup and use
Unlocked, works with any compatible SIM
3G hotspot can be used by up to 10 clients
5,200mAh powerbank comes in handy
SMS message capability
Onboard display

The Bad

SD card can't be accessed via WiFi

HEXUS.awards




HEXUS.where2buy

The TP-Link M5360 3G Mobile WiFi Power Bank is available to purchase from Ebuyer.

HEXUS.right2reply

At HEXUS, we invite the companies whose products we test to comment on our articles. If any company representatives for the products reviewed choose to respond, we'll publish their commentary here verbatim.