Trading in bazookas for golf clubs, Worms is back...
Worms developer Team 17 has had plenty of experience at making us giggle over the years. Having had its head buried firmly in the Worms sand since its inception, the British developer has delighted us with its squeaky-voiced platoon of earthworms, crazy weapons and quirky animations for over 15 years. Unsurprisingly, with a new variety of platforms at its disposal, it isn't about to call it quits on the long-running franchise just yet.

Worms Crazy Golf HD once again draws on Team 17's unique sense of humour and ingenious design skills, only this time taking us to the relative quiet of the golf course rather than the chaos of the open-island maps of previous games.
It's not exactly a natural evolution for the series in terms of gameplay - you could even say that it's taken a couple of steps back in an effort to appeal to a wider audience of casual game-loving iPad owners rather than the core fans - but what it lacks in depth it certainly makes up for with its instant pick-up appeal, bright level design and addictive gameplay.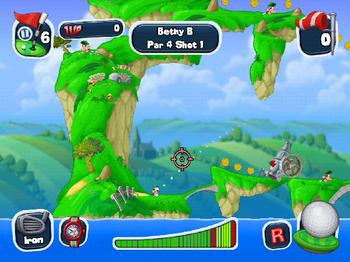 Use cannons to shoot your ball across the map


Worms Crazy Golf HD bears many of the hallmarks of its predecessors, with colourful cartoon-like levels, cute Worms with attitude and a host of familiar items, from exploding sheep to collectible crates. The major difference this time is these little critters are now playing a leisurely game of golf rather than beating each other up with bazookas and their kamikaze abilities. As a result, it's a much calmer and casual affair, trading in tough team tactics for silky solo skills.

That's not to say that Worms Crazy Golf isn't a challenge, because it's certainly designed to test you mentally. Initially, gameplay requires nothing more than simply moving your finger across the screen to control direction and trajectory of your shot before pushing down on the golf ball in the bottom right-hand corner of the screen to set the power of your swing.
After completing the first few holes we really thought Team 17 had sold out to the casual gaming market with a hastily-rushed title that provides absolutely no strategic depth. It turns out, however, that our initial assumptions were totally wrong; the cheeky developer was just easing us in gently.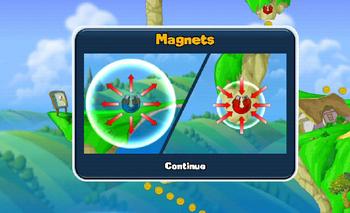 Magnets can send your ball spinning in the wrong direction



As you progress through the four themed courses of 18 holes each, completing various side challenges along the way, things get increasingly difficult as level design becomes more elaborate. With multi-tiered environments, and a myriad of obstacles designed to put you off, you really have to stop and think about how you're going to plot your path through each course. It's essentially a Worms-themed puzzle game laid out in an Angry Birds style, with a mind-boggling 72 different holes to crack.