Hardware
If you were able to prise away the top you'd find the Tegra K1 32-bit SoC inside. Nvidia clocks the four ARM Cortex-A15 cores in at a maximum 2.2GHz alongside, in typical Tegra fashion, a companion core for light-load work. GPU grunt is handled by the 192-core Kepler-class graphics that push out up to 365GFLOPS when running at a full-chat 950MHz. Whatever gaming code can run on your GeForce GTX Titan can technically also run on the Tegra K1. Specifically for mobile gaming, Open GLES 3.1 and OpenGL 4.4 are both supported.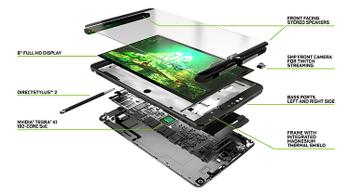 Manufacturer benchmarks are nebulous at the best of times, but Nvidia claims GPU across-the-board performance leadership in games, showing it to be between 2-4x faster than the graphics in the iPad Air and Galaxy Tab Pro 8.4 tablets. The real comparison will be against the next-generation mobile GPUs from these companies, as Imagination Technologies has already detailed the similar-specification GX6650, likely to be used in the next iteration of Apple products, and Qualcomm is talking up the capabilities of the Adreno 420 GPU.
A 19.75WHr battery is good for 80 hours of music playback, approximately 10 hours of video playback and a 'few' hours of hardcore gaming. The battery is smaller than the often-referenced Xiaomi Mi's and 20 per cent larger than the one in the Google Nexus 7.
It's a tablet with a really nippy GPU and competent CPU, but so is the Xiaomi Mi and a roster of other high-end tablets. How, then, is it a true gaming device? The answer is a combination of additional hardware, software and Nvidia technologies.
Available separately for about £50 is the Shield controller. Put the tablet and controller together and you have an updated version of the original Shield, albeit now with more flexibility and increased mainstream appeal. You can game on the Shield Tablet on its own by using the touchscreen or with the controller for some proper console-like thrills and spills.
Much like the tablet, the controller is well-built and comfortable to hold. It's reminiscent of the Xbox One pad, which is no bad thing, and connects to the Shield via a protocol called WiFi Direct, used instead of Bluetooth due to its low-latency connection. Nvidia has a proprietary software stack, meaning it cannot be used with other tablets, but it's worth noting that up to four Shield controllers can be paired with a single Shield Tablet. From the demonstrations we saw, pairing is straightforward and intuitive. Even games that have no native controller support can be mapped over using a feature aptly called Gamepad Mapper.
The best compliment we can pay to the controller and tablet union is that it feels like a corded connection. We noticed no perceivable lag three feet away from the tablet and 10 feet away from the Shield hooked up to a large-screen TV. There are over 400 Android games optimised for either touch or controller input. Gaming, you may be interested to know, is big business on the Android platform - over 90 per cent of Play store revenue is derived from either gaming app or in-game purchases.
Nvidia is also retailing a smart cover, priced at £25. There's not much more to say other than it works just as intended. It is likely that, in Europe at least, there will be bundling of the tablet, controller and smart cover, or a combination of two products out of three. The price of bundling remains unknown.