Introduction
What do you look for when buying a smartphone? Is a particular brand at the top of your priority list? Does the camera need to be truly impressive? Do you need a device that supports particular apps? Or are you happy to go with the same device as your mates and colleagues?
Obviously, different criteria will suit different consumers. Me, personally, I'd want a phone that's fun to use, not too big (a sub-4in screen, preferably), light enough to go unnoticed in a pocket, has a fast web browser, good email facilities, a decent camera and, above all else, a price tag that won't break the bank.
Having recently become a home owner, lavish smartphones shackled with lengthy and expensive contracts are no longer an option. I'm looking for something that's affordable, preferably SIM-free, and still able to impress. In the Nokia Lumia 620 I think I've found it.
A Mid-Range Champion
There are plenty of showpiece smartphones on the market right now. The iPhone 5, HTC's One and Nokia's own Lumia 920 are prime examples, but they're all priced at around the £500 mark.
Step into cheaper territories and the number of attractive solutions tend to dry up quickly. Google's Nexus 4 is a popular choice at £240, but Android handsets further down the ladder tend to sacrifice quality in order to hit a more palatable price point.
Here's where the recently launched Lumia 620 is different. It's available for just £149.99 on O2 Pay & Go, yet it feels like a premium product from the moment you first turn it on.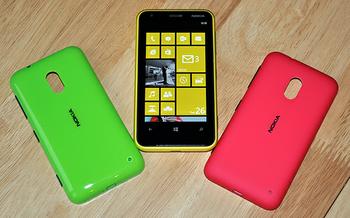 Nokia's build quality is excellent, with the handset's 127g weight well-balanced across the 115mm x 61mm x 11mm frame. This isn't the thinnest smartphone on the market - in fact the curved edges give it a slightly bulbous appearance - but it's surprisingly attractive and, more importantly, very comfortable to hold.
Who Needs A Unibody?
Interchangeable covers have long been a hallmark of Nokia handsets, and we're glad to see them available for the Lumia 620. Some might argue that unibody designs are the height of smartphone engineering, but heck, you just can't beat the flexibility of a removable cover. Access to the battery and integrated MicroSD card slot are all here, as of course are a wide range of available shells.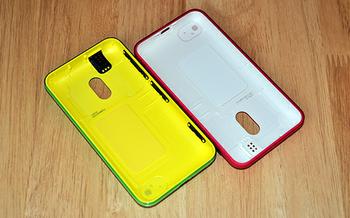 Some might argue that unibody designs are the height of smartphone engineering, but heck, you just can't beat the flexibility of a removable cover.

The 'dual-shot' shells are named as such to reflect the fact that they're coloured in two tones, inside and out. This simple effect gives each shell a real vibrancy and, where so many other smartphones offer simple blacks, whites and greys, the Lumia range continues to stand out from the crowd.

Staple Nokia colours such as Cyan and Magenta are available, but it's the Lime Green that appears to be catching everyone's eye. With a yellow interior, it creates a neat two-tone trim around the face of the device. It's worth noting, however, that different colours carry a different finish. The Lime Green shell is glossy, for example, while the Cyan is matte. Our opinion? Go for a matte option, as it provides more grip and makes the handset feel better in the hand. And of course, if these colours won't fit in with your tweed-blazer fashion sense, a black shell is included as standard.

Look past the array of available colour options and the real good news here is that Nokia's shells are as sturdy as the rest of the handset. Easily removed by applying pressure to the camera, the shells snap on and off with ease, yet feel satisfyingly snug when attached. They might be made of plastic, but they don't feel cheap - you'll find no creaks here, and if the shell is damaged, you can rest at ease in knowing that the entire handset won't need to be replaced.