Introduction
Solid-state drives have transformed the computing landscape, and whether you're shopping for storage for a laptop, desktop or server, SSDs now stand as the preferred choice for a growing number of users. In the server space, Kingston is hoping to make a splash with the launch of its latest datacentre drive, the DC500.
Available in a 2.5in form factor, the DC500 makes use of a SATA 6Gbps interface and promises "performance, reliability and consistency" in capacities ranging from 480GB to 3.84TB. What's interesting is that two model variants are being introduced for specific usage scenarios.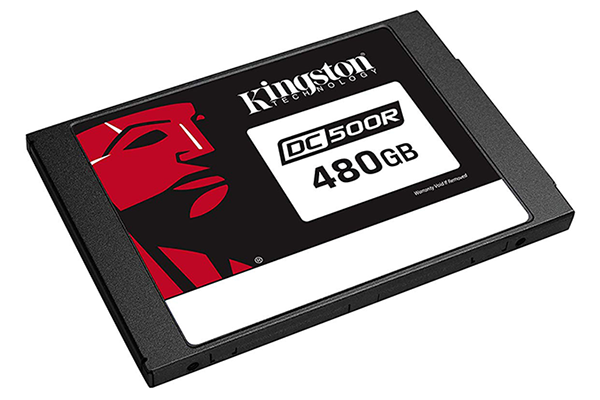 The DC500R, the basis of this article, is optimised specifically for read-centric workloads, such as application servers, virtual tape libraries or AI training, where customers require rapid response times and strong I/O performance without paying more for write-intensive drives. Those anticipating workloads that are demanding in both reads and writes are better served by the DC500M, which offers improved write endurance for a small premium.
Prices range from £117 to £809 for the DC500R, or £141 to £870 for the DC500M, and all eight drives utilise a Phison S12 controller and 64-layer 3D TLC NAND from Intel. Setting the two series apart, the DC500M is equipped with a larger pool of physical NAND and an increase in DRAM cache, allowing for more over-provisioning and, subsequently, superior write endurance.
Kingston DC500 Data Center SSDs

Series

DC500R

DC500M

Capacities

480GB

960GB

1.92TB

3.84TB

480GB

960GB

1.92TB

3.84TB

Single-unit Price

£117

£216

£408

£809

£141

£252

£461

£870

Controller

Phison S12

NAND

Intel 64-layer 3D TLC

Interface

SATA 3.0 (6Gbps)

Form Factor

2.5in

Sequential Read

555MBs

555MBs

555MBs

555MBs

555MBs

555MBs

555MBs

555MBs

Sequential Write

500MBs

525MBs

525MBs

520MBs

520MBs

520MBs

520MBs

520MBs

Steady State 4K Read

98,000 IOPS

98,000 IOPS

98,000 IOPS

98,000 IOPS

98,000 IOPS

98,000 IOPS

98,000 IOPS

98,000 IOPS

Steady State 4K Write

12,000 IOPS

20,000 IOPS

24,000 IOPS

28,000 IOPS

58,000 IOPS

70,000 IOPS

75,000 IOPS

75,000 IOPS

Endurance

438TBW

876TBW

1752TBW

3504TBW

1139TBW

2278TBW

4555TBW

9110TBW

Self-Encrypting Drive (SED)

AES 256-bit Encryption

Quality of Service (Latency)

TYP read/write: <500 µs / <2 ms

Enterprise SMART Tools

Reliability tracking
Usage statistics
Life remaining
Wear levelling
Temperature

Power Loss Protection

Tantalum capacitors

Power Consumption

Idle: 1.56W
Average: 1.6W
Max read: 1.8W
Max write: 4.86W

Storage Temperature

-40°C ~ 85°C

Operating Temperature

0°C ~ 70°C

Dimensions

69.9mm x 100mm x 7mm

Weight

92.34g

Vibration Operating

2.17G Peak (7–800Hz)

Vibration Non-operating

20G Peak (10–2000Hz)

MTBF

2 million hours

Warranty/Support

Limited 5-year warranty with free technical support
Kingston promises strict QoS requirements, ensuring low latencies for the intended workloads, and as you would expect given the target market, there's onboard power-loss protection through a combination of Tantalum capacitors and custom firmware. Both DC500 drives cater for in-flight data to be written to NAND during power loss, and the flash translation layer (mapping table) is updated to help minimise the risk of data loss when power is restored.
When it comes to raw speed, sequential transfer rates top out at 555MB/s, saturating the 6Gbps interface, and though there are now far quicker solutions on the market, SATA drives remain a viable choice for enterprise deployment where cost, compatibility and reliability are key criteria. Longevity can be the more pressing concern, and to that end the read-centric DC500R touts an endurance rating of 0.5 drive writes per day, while the DC500M increases endurance to 1.3 DWPD.
The specifications are in line with expectations for a SATA drive equipped with TLC NAND - the interface will ultimately act as the bottleneck - but pricing is competitive, and for enterprise customers who already shop at Kingston for server memory, it may be helpful to acquire storage from the same source.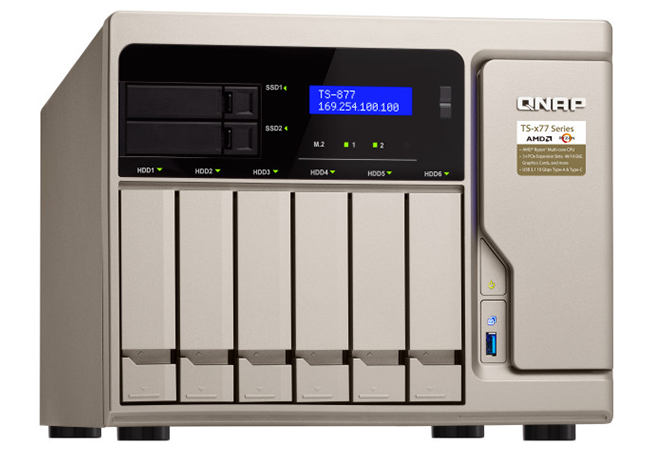 The challenge for us is what to do when half-a-dozen 480GB DC500R drives land on the doorstep. Our regular SSD suite would serve only to demonstrate that the drives saturate the SATA interface while delivering numbers that pale in comparison to consumer M.2 drives. To make things a little more interesting, we've got our hands on a handful of Qnap goodies, including an eight-core TS-877 10GbE AMD Ryzen NAS, a QSW-1208-8C 10GbE switch and a QXG-10G1T 10GbE expansion card for our test platform.
Going forward, we'll be moving much of our NAS testing to 10GbE, as the cost of deployment, for home users and businesses alike, is starting to become more attractive. And let's face it, regular Gigabit Ethernet has been earmarked for retirement for far too long.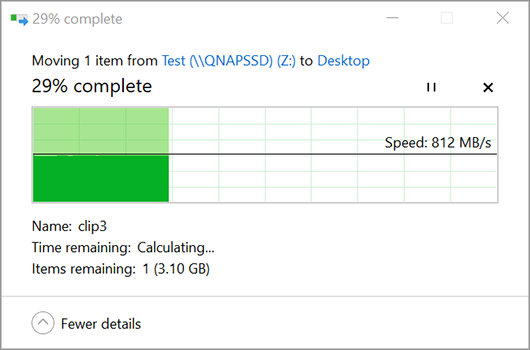 A simple data transfer demonstrates the value of faster networking. At these speeds, transferring a 10GB file takes just 13 seconds, and the performance of multiple DC500R drives in a RAID configuration is clearly capable of utilising the faster network interface. It's going to be fun to see some NAS benchmark results, so let's get to it.