Asus ROG launched the first GR8 'Console PC' back in the summer of 2014, with the device hitting retail the following October. Now it has launched the new VR-Ready GR8 II. This latest iteration of the GR8 can be configured with a choice of Intel Core i5 or i7 processor (Skylake and Kaby Lake options), and whatever the model you get a custom made Nvidia GeForce GTX1060 3GB GDDR5 graphics card is fitted. The system is a compact 4 litres in size, and weighs in at 4Kg (that's the same weight as 4 litres of water, fact fans).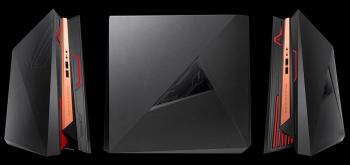 It is claimed that the Asus ROG GR8 II is "the smallest VR-Ready system money can buy". Cooling considerations were at the forefront of designer minds with the GR8 II, says Asus, as they maximized the efficiency of the airflow, heat pipes and fans in the compact chassis. Even in this constrained space, Asus has created dedicated processor and graphics card chambers. We aren't given a full-tilt system noise figure but have been told it runs at 23dB when idle (and the system consumes <30W when idling).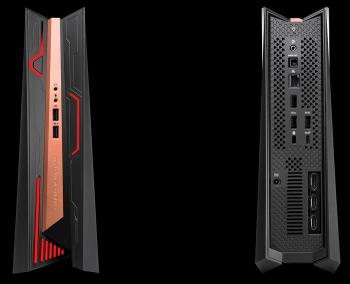 Below is the official system spec list:
Processor: 7th Generation Intel Core i7-7700/i5-7400 65W desktop processors,
or 6th Generation Intel Core i7-6700/i5-6400 65W desktop processors
Operating system: Windows 10, or without OS
Chipset: Intel H110
Graphics card: Asus-customized Nvidia GeForce GTX 1060 Graphics (VR capable)
Memory: DDR4 memory (up to 32GB), 2 x SO-DIMM
Storage: 1 x 2.5-in SATA 6Gbps 7200rpm SSD/HDD; up to 1TB, 1 x M.2 SSD; up to 512GB
Wireless: Intel 802.11 a/b/g/n/ac Wi-Fi, Bluetooth 4.2
LAN: Intel Gigabit Ethernet "with GameFirst IV for lag-free online gaming"
Connectivity Front: 1 x headphone jack, 1 x microphone jack, 2 x USB 3.0 ports (one with USB Charger)
Connectivity Rear: 1 x line out, 1 x S/PDIF optical out, 2 x HDMI 2.0, 1 x DisplayPort 1.4 with G-SYNC support, 2 x USB 3.0, 1 x USB 3.1 Type C, 1 x USB 3.1 Type A, 1 x RJ45 LAN, 1 x 19V DC-in, 1 x Kensington lock
LED lighting: Asus Aura Sync LEDs in three chassis areas, 8 million colours, 10 lighting effects, plus 12 modes
Power supply: DC 19.5V, 11.8A, 230W power adapter
Size: 88 x 299 x 281.3mm
Weight: 4kg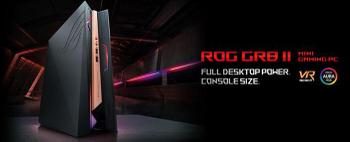 The new GR8 II has been used in extensive testing alongside an Oculus Rift system and games, says Asus. The twin HDMI and DP connectors allow users to keep their HMD connected as well as their monitor, for convenience. Other than for VR, Asus recommends the new GR8 II for living rooms, desks with limited space, and LAN party use. It further recommends the use of its own G-SYNC capable gaming monitors and Asus Aura peripherals such as keyboards and mice for an LED synchronised, aesthetically pleasing setup.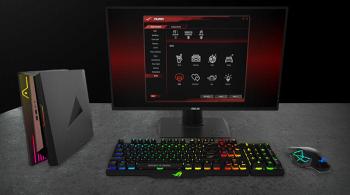 The new GR8 II alongside matching Aura Sync accessories.
Asus has implemented its Sonic Studio III, Sonic Radar III and GameFirst IV technologies in the GR8 II. Furthermore the system motherboard features ROG SupremeFX shielded audio for immersive in-game sound.
The Asus ROG GR8 II will be available in the UK from the first week in February 2017. It will be stocked at leading retailers, with an MSRP of £949.99 inc. VAT.