The Raspberry Pi 4 was officially unveiled this morning and has become available immediately. This is a big update and the Raspberry Pi org has managed to implement improvements to "almost every element of the platform". Furthermore, it is claimed that for the first time users will be able to benefit from "a PC-like level of performance," while keeping the expected interfacing capabilities and hackability - and entry price of $35.
Above I said 'entry price' as there are three models simultaneously available today, which vary by the amount of LPDDR4 RAM pre-installed (I don't think the RAM is upgradeable - choose wisely). For $35 you will get the 1GB model, and extra $10 gets a Raspberry Pi 4 with 2GB of RAM, and you can double that to 4GB for an outlay of $55.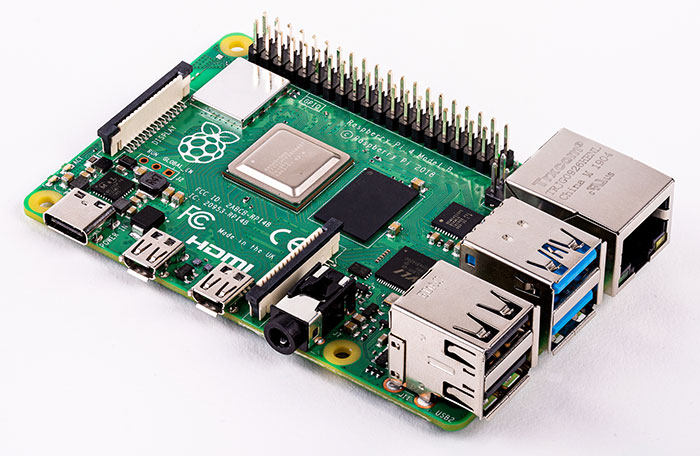 Raspberry Pi 4 Model B specifications:
Broadcom BCM2711, Quad core Cortex-A72 (ARM v8) 64-bit SoC @ 1.5GHz
1GB, 2GB or 4GB LPDDR4-2400 SDRAM (depending on model)
2.4GHz and 5.0GHz IEEE 802.11ac wireless, Bluetooth 5.0, BLE
Gigabit Ethernet
2 USB 3.0 ports; 2 USB 2.0 ports.
Raspberry Pi standard 40 pin GPIO header (fully backwards compatible with previous boards)
2 × micro-HDMI ports (up to 4kp60 supported)
2-lane MIPI DSI display port
2-lane MIPI CSI camera port
4-pole stereo audio and composite video port
H.265 (4kp60 decode), H264 (1080p60 decode, 1080p30 encode)
OpenGL ES 3.0 graphics
Micro-SD card slot for loading operating system and data storage
5V DC via USB-C connector (minimum 3A*)
5V DC via GPIO header (minimum 3A*)
Power over Ethernet (PoE) enabled (requires separate PoE HAT)
Operating temperature: 0 – 50 degrees C ambient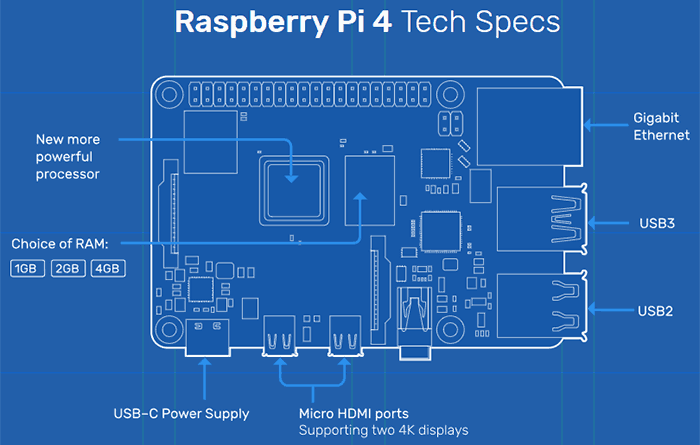 With the new power-plant of a Broadcom BCM2711 SoC, the RasPi 4 yields a 4-core Cortex-A72 configuration running at 1.5GHz. According to the Raspberry Pi org this is up to 3x faster than the previous gen (Cortex-A53) as it can execute more instructions per clock, for example. The GPU is the VideoCore VI, and makes this the first RasPi to step beyond the aging VideoCore IV. Elsewhere in the SoC design there is triple the available memory bandwidth (with up to 4GB LPDDR4, rather than max 1GB of LPDDR2), an upgraded display pipeline, and I/O limitations of previous models have been addressed by including on-board Gigabit Ethernet and PCI Express controllers.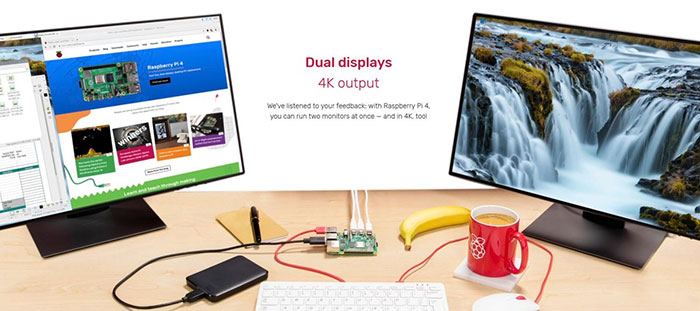 Thanks to the upgraded video processor the new Raspberry Pi 4 can support the following features; dual display output via a pair of type-D (micro) HDMI connectors, 4Kp60 hardware decode of HEVC video, and support for OpenGL ES 3.x. Furthermore, the makers are retiring the legacy graphics driver stack used on previous models. Instead, they're using the Mesa 'V3D' driver developed by Eric Anholt at Broadcom over the last five years. Benefits of this driver include OpenGL-accelerated web browsing and desktop composition, and the ability to run 3D applications in a window under X. On the topic of software, Raspbian Buster, a "radically overhauled operating system, based on the forthcoming Debian 10 Buster release," is being shipped with these units.

As mentioned in the intro, these Raspberry Pi 4 bare board computers are available now. If you are in Cambridge you could pop into the Raspberry Pi Store and pick one up, otherwise head over to the usual approved resellers. Full kits, custom cases and so on are also available. The Raspberry Pi org has decided to make more units of the 3GB version to start with but will adjust it manufacturing in response to demand.
There is still a commitment to continue to supply Raspberry Pi 1B+, 2B, 3B, and 3B+ models as long as there is demand. At the time of writing there are no plans for a Raspberry Pi 4 Model A, as the makers are not sure of what "sensible set of changes," could be made to create such a product for significantly less than $35.

Explaining Computers unboxes the Raspberry Pi 4 desktop kit and takes it for a spin (10mins30s)