Introduction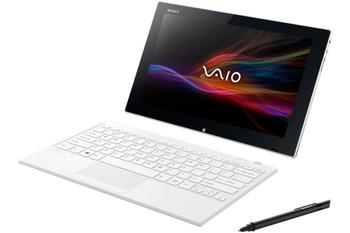 We've managed to get our hands on Sony's lovely-looking Vaio Tap 11. Introduced to market as "the world's thinnest Windows 8 tablet PC," this intriguing ultra-portable device promises "tablet convenience with PC productivity" and, on the face of things, looks to be a serious challenger to Microsoft's Surface Pro 2.
Well, it's not. After just a couple of days of use, we've come to the conclusion that the Tap 11 is too compromised to warrant serious consideration. Build quality is mediocre, the plastic flap covering the USB port is nothing short of horrible, the stand doesn't prevent the tablet from toppling, it's virtually impossible to use on your lap, you can't physically connect the keyboard during use, the pen hangs onto a weak clip just waiting to be lost, and to wrap it all up, it costs £1,050 for a Core i5 model.
Such poor execution of what seemed a sound idea makes Sony's exit from the business a little easier to stomach, yet our time with the Tap 11 wasn't entirely futile. Looking past the usability blunders, what makes the Sony tablet interesting is its use of a Core i5-4210Y processor.
The chip, one of the first from the Haswell Y-Series range, is a dual-core, hyper-threaded solution with 3MB of cache, integrated HD 4200 graphics and a power rating of just 6W. Tailor-made for Windows tablets, it seems, so let's take a closer look at this promising piece of silicon.
Intel setting sights on tablets
Cast your memory back to June 2013 and you'll recall Intel triumphantly unveiling its 22nm microarchitecture, codename Haswell. True to form, the chip giant's latest and greatest eased to the top of the charts in a wide range of benchmarks, yet high-end performance told only part of the story.
On the desktop front, Intel has remained ahead of the curve for a good number of years and continues to go largely unchallenged when it comes to CPU performance in a traditional PC. That's a battle that Intel has become accustomed to winning, but it's on the opposite end of the spectrum - low-power, portable devices - that the world's largest chip-maker regularly comes off second best.
The ultra-portable market, spearheaded by a surge in smartphone and tablet sales, is dominated by ARM-based processors, and it's an area in which Intel admits to being off the pace. Not through a lack of trying, mind you.
The Haswell launch itself was championed as a catalyst for "the greatest PC innovation in a decade," as Intel sought to optimise power efficiency through a range of new innovations all designed to put fourth-generation Core processors into portable, handheld devices.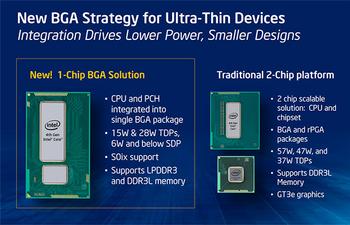 Chief among these innovations are U- and Y-Series processors that combine the traditional two-chip platform - Central Processing Unit (CPU) and Platform Controller Hub (PCH) - into a single BGA package aimed specifically at ultra-thin PCs.
The Core i5-4210Y featured in Sony's Tap 11 is a prime example, and with an SDP of 6W, the dual-core, quad-thread part looks to be a near-perfect fit for bringing the power of the PC to the palm of your hand. But there's more to that 6W power rating than first meets the eye.
SDP shenanigans and performance concessions
Traditionally speaking, the amount of heat generated by a CPU has been measured using a Thermal Design Power (TDP) rating. This typically indicates how much cooling the processor will require in order to dissipate heat generated during prolonged use, and it's a metric the industry has become accustomed to over the years.
Complicating matters somewhat, today's latest chips blur the TDP boundaries with variable measurements that factor unique usage scenarios into the equation. With previous-generation Ivy Bridge parts, Intel introduced a Configurable TDP (cTDP) that enabled a processor to scale across multiple power ratings. An OEM could, for example, take a chip with a 17W TDP and choose to run it in a higher-performance 33W 'TDP Up' state by adding extra cooling, or, alternatively, run it in a lower-performance 13W 'TDP Down' state with reduced cooling.
This time around, the ultra-low-power Y-Series Haswell chips are given a new Scenario Design Power (SDP) rating that gauges how much cooling would be required during common consumption or light creation scenarios.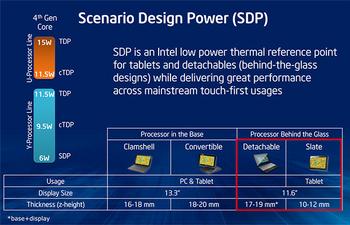 What this means is that the Core i5-4210Y is rated to require 6W of cooling during "mainstream touch-first usages," but under maximum load the chip can, and will, consume more power. The end result is a processor that effectively carries two power ratings; a 6W SDP and an 11.5W TDP.
Thermal vagaries aside, this remains a potent processor packaged in a low-power envelope, though of course certain performance concessions were made in order to increase efficiency. The i5-4210Y will peak at a maximum turbo frequency of up to 1.9GHz, while the onboard IGP is a lowly HD 4200 that maxes out at 850MHz.
Mobile Intel Core i5 'Haswell' Comparison

Cores

Threads

CPU Base Clock

CPU Turbo Clock

Onboard Cache

GPU Brand

GPU Max Clock

SDP

TDP

Tray Price

i5-4210Y

2

4

1.5 GHz

1.9 GHz

3 MB

HD 4200

850 MHz

6.0 W

11.5 W

$281

i5-4200U

2

4

1.6 GHz

2.6 GHz

3 MB

HD 4400

1,000 MHz

N/A

15 W

$281

i5-4200M

2

4

2.5 GHz

3.1 GHz

3 MB

HD 4600

1,150 MHz

N/A

37 W

$225

i5-4200H

2

4

2.8 GHz

3.4 GHz

3 MB

HD 4600

1,150 MHz

N/A

47 W

$225
Put the chip's specification into context with U-, M- and H-Series equivalents in the current Core i5 range and there's clear TDP differentiation. What's interesting is that the clock-speed columns aren't linked to price: the fastest chips aren't the most expensive. Instead, the premium is generated by processors that are binned to run at ultra-low voltages.
And before we get onto the performance benchmarks, a couple of pitfalls are already becoming evident. Price is a real sticking point - the Intel processor alone costs more than many ARM-based tablets - and this is one of the reasons why Windows slates currently fetch a significant premium. Intel needs to take the axe to mobile Haswell pricing if, say, a Surface Pro 2 (from £719) or Sony Vaio Tap 11 (from £799) is to appear enticing alongside an iPad Air (from £399).
Then there's the issue of cooling. A chip with a 6W SDP / 11.5W TDP still requires active cooling, which is the reason why the Sony Vaio Tap 11 has a bothersome fan that ramps-up audibly under light load.
Ideally, we want the performance potential of the Core i5-4210Y in a sub-5W package that can be run entirely fanless, but that hasn't been the case with this generation, and it remains to be seen whether or not next-generation Broadwell is able to deliver the power savings required to make it happen.
Nevertheless, the low-power i5-4210Y is one of the most interesting parts in Intel's 22nm stable, so let's see what it can do.