Introduction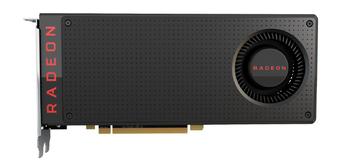 AMD first debuted the Radeon HD 7970 on a leading-edge 28nm process in December 2011. That GPU paved the way for a succession of hardware that tweaked and massaged the architecture whilst remaining on the same process. Four years later, both AMD and Nvidia were still on the same process, necessitating architecture innovation in order to boost performance - there was no free lunch usually associated by a move to a smaller geometry. With this restriction in place, it can be argued that Nvidia has done a better job by teasing out significant dollops of extra performance - both in hardware and software - until the next generation of manufacturing technology was fully baked.
That process transition time is now upon us. Nvidia moved over to a 16nm process from TSMC with the introduction of the Pascal-based GTX 1080 and GTX 1070 in the last two months, with both priced at premium levels to reflect their stature in the enthusiast segment. Today, AMD makes the full-scale move to a 14nm process by releasing the Radeon RX 480 based on a new architecture called Polaris.
Good business means mainstream appeal - setting the foundations
The normal procedure for a consumer graphics card launch used to be an unveiling of the rootin'-tootin' performance model first, followed by mainstream models that filled up the stack. This procedure has been turned on its head by Nvidia recently, with the GTX 980 coming before the GTX 980 Ti and GTX 1070/80 shipping before the big-die card. AMD is following a similar, even more conservative approach with Polaris, and we'll explain why.
When we had substantially better hardware than the competition, we didn't beat the crap out of them - Raja Koduri, AMD

There have been numerous instances in the recent past where price-comparable AMD Radeon hardware has enjoyed a wholesome on-paper specification advantage over Nvidia GeForce, intimating better gaming numbers. This advantage has, much to AMD's chagrin, been eroded and surpassed by the green team's driver and developer-relations leadership.

AMD has fewer financial resources than Nvidia, meaning that producing better hardware, at the expense of software, is almost always going to be a losing battle in the short term. Addressing this issue, Raja Koduri, Senior Vice President of the Radeon Technologies Group, has been putting greater focus on the software ecosystem - from driver to dev-rel, because without it AMD will never realise the potential of its hardware. "When I have high-end hardware (Vega - ed.), I'm not going to be bottlenecked by software; it doesn't make sense for super-high-end hardware without the necessary software support; it's not good business," said Koduri in a briefing with HEXUS.

Yet purposely limiting spend on hardware offers up certain inevitable choices. AMD cannot therefore have big- and small-die chips arrive to market quickly. The sensible approach, according to Koduri, is to cater for the mass market first with a product that's competitive against its peers and backed by software that's more robust than ever before. RX 480, previously known as Polaris 10, is the physical manifestation of that declared strategy.

Would I wish to have a chest-beating Polaris that went along with it (Polaris 10) right now? Of course, but I don't have an engineering team that can produce four chips in one shot - Raja Koduri

Any good PR machine uses numbers to support a new(er) strategy. AMD points out that 84 per cent of gamers purchase $100-$300 graphics cards, 95 per cent of Steam users game at 1080p or less, and some of the biggest growth is seen in gaming notebooks. Such statements naturally apply to Nvidia just as well as to AMD, but there's undeniable truth that having a compelling solution in the mainstream market affects bottom line more than a halo product.

Koduri, though, explained that AMD will continue to service the high end of the GPU market as soon as it can, and we know that the bigger Polaris GPU, codenamed Vega, is coming along nicely.

We felt it important to contexualise the RX 480 before you looked at the specifications. It is a product born from the necessity of AMD needing to improve its entire software ecosystem, so whilst it will offer a better bang for the buck compared to the last generation of cards, it's no Pascal-beater, period. What's more, with less myopic focus on the hardware side, the architecture behind Polaris is certainly more evolutionary than revolutionary.

With that out of the way, here is how RX 480 stacks up against a number of recent GPUs from the Radeon stable.

AMD Radeon line-up

Radeon R9 Fury X

Radeon R9 390X

Radeon RX 480

Radeon R9 380X

Radeon R9 370X

Launch Date

June 2015

June 2015

June 2016

November 2015

August 2015

Codename

Fiji XT

Grenada XT

Polaris 10 XT

Antigua XT

Trinidad XT

Architecture

GCN 3rd

GCN 2nd

GCN 4th

GCN 3rd

GCN 1st

Process (nm)

28

28

14

28

28

Transistors (mn)

8,900

6,200

5,700

5,000

2,800

Approx Die Size (mm²)

596

438

232

359

212

Full Implementation of Die

Yes

Yes

Yes

Yes

Yes

Processors

4,096

2,816

2,304

2,048

1,280

Texture Units

256

176

144

128

80

ROP Units

64

64

32

32

32

Peak GPU Clock (MHz)

1,050

1,050

1,266

970

1,000

Peak GFLOPS (SP)

8,602

5,914

5,834

3,973

2,560

Peak GFLOPS (DP)

538

739

?

248

160

Memory Type

HBM

GDDR5

GDDR5

GDDR5

GDDR5

Memory Size (MB)

4,096

8,192

4,096 / 8,192

4,096

2,048 / 4,096

Memory Bus (Bits)

4,096

512

256

256

256

Memory Clock (MHz)

1,000

6,000

8,000

5,700

5,600

Memory Bandwidth (GB/s)

512

384

224 / 256

182

179

Power Connectors

8+8

8+6

6

6+6

6

TDP (Watts)

275

275

150

190

140

GFLOPS per Watt

31.3

21.5

38.89

20.9

18.2

Launch MSRP

$649

$429

$199+

$229

$179

Specification analysis

The RX 480 is a full-fat implementation of the Polaris die that measures 232mm² and packs in 5.7bn transistors. 36 Compute Units each house clusters of 64 processors, offering up 2,304 in total. A 14nm process, built on FinFET technology from GlobalFoundries, means the chip itself is barely any bigger than a Radeon R9 370X based on first-generation GCN technology. We draw specific attention to the size because it shows how AMD views RX 480, that is, a highly-tuned GPU built for energy consumption and a low-ish price. The relatively small size and peak GFLOPS throughput makes it an obvious candidate for console updates - the upcoming PlayStation 4 Neo is rumoured to be using a custom version of Polaris.

Assuming minor architectural improvements from one generation to the next - we'll explain just what they are on the following page - RX 480 ought to benchmark at levels between incumbent R9 380X and R9 390X, both of which use much more silicon real estate. RX 480 becomes AMD's highest-frequency GPU though its peak core clock speed is some way shy of what Nvidia has achieved with Pascal.

Keeping it optimised and tight, a 256-bit memory bus interfaces with GDDR5 memory operating at 8GHz, though some cheaper cards will ship with 7Gbps memory instead. Power consumption, at 150W, is low enough for the card to be equipped with a solitary six-pin PCIe connector. A combination of smaller process and general improvements combine to give RX 480 a near-40 GLOPS per watt efficiency rating. This is a card for super-fluid FHD 1080p and smooth QHD 1440p gaming, going by the specifications.