Introduction
Monitor expert iiyama has been a proponent of releasing lots of monitors equipped with AMD's FreeSync technology. Last year's GE2788HS-B2 offered a 27in screen that came equipped with an FHD resolution and FreeSync compatibility between 55Hz and a maximum 75Hz, all for not much more than £160, and iiyama has seen fit to update the range with a model that is home to incremental improvements. Enter the G2730HSU priced at £170.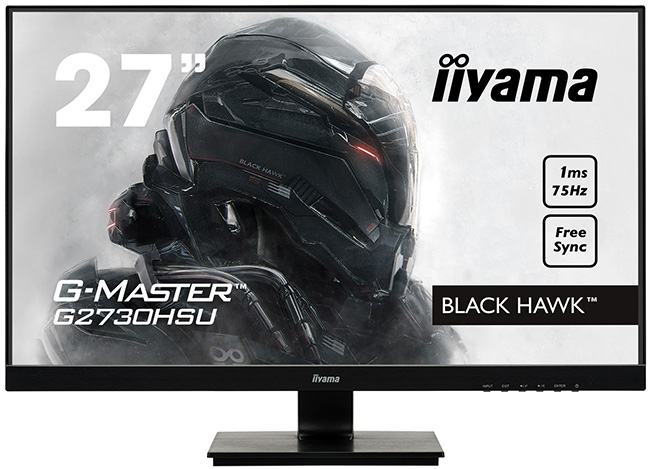 A key improvement is the lack of apparent bezels around three edges, though it is not as clean as it would first appear; there's a further smaller border in which the 27in panel sits. Some may have an issue with the relatively low 1080p resolution paired with a 27in screen, and sure, if you come from a high-density panel, the lack of definition is jarring on the desktop but not as apparent when gaming.
This is one of the easiest monitors to get going out of the box. A small stand screws into the rear while the pedestal attaches via a captive thumbscrew. Keeping costs in check does mean there's no height adjustment, a problem that's amplified by the short neck, so bear this in mind if your desk setup isn't already at a decent height. And that lack of adjustment means that tilt (+22°/-5°) is the only option, though you could attach it to a Vesa mount for more flexibility.
The screen doesn't feel overtly cheap in construction because the plastic is decent and there are no squeaks when using its limited movement. That said, pressing any one of six configuration buttons on the bottom-right side makes the screen wobble quite a lot - a more substantial base would help in this regard.
On-screen display is simple and quick to access, and iiyama has all the important bases covered, including being able to adjust the gamma, an eco-saving mode that works well, and I-Style for specific colour settings.
iiyama continues to use a TN panel but improves upon last year's model by offering a slightly wider FreeSync range, up from 55-75Hz to 48-75Hz, available over both HDMI and DisplayPort. That's not wide in the general FreeSync landscape, however, and it therefore brings noisome tearing and stuttering into play as soon as it drops below the minimum supported 48Hz. Also, there's no low-framerate compensation to ameliorate the effects though we wouldn't expect that at this price point.
Further cost-cutting measures are evident in the monitor having two USB 2.0 ports, rather than the more useful USB 3.0, and the twin speakers offer perfunctory performance. The sum of these observations may sound like we're being critical of the display, but if it delivers on fluid gaming at that £170 price point, most can be forgiven and forgotten.

Outputs are sensible and cater for FreeSync over both HDMI and DisplayPort. We'd steer users towards proper speakers than rely on the ones built into the chassis so the two audio ports on the left-hand side ought to be left alone.
iiyama has put most of the budget for this screen into its FreeSync compatibility. Let's now see how it fares in our battery of tests.