Introduction
Premium monitors tend to command a significant price hike if they're fully optimised for gamers or content creators. The well-heeled gamer looks for ultra-high resolution married to high refresh rates, adaptive framerate technology, rich colours and a near-borderless frame. Expect to pay well in excess of £500 for the privilege of owning one. On the other hand, colour-accurate, factory-calibrated screens with advanced IPS technology cater for the photographer, and given a large enough size, the entry fee is also on the wrong side of £500.
That said, you don't need to spend a great deal to avail yourself of a decent games-playing experience. The iiyama G-Master G2530HSU is a case in point, featuring a 24.5in, full-HD screen that's equipped with AMD's FreeSync technology. All yours for £130, with a three-year warranty to boot.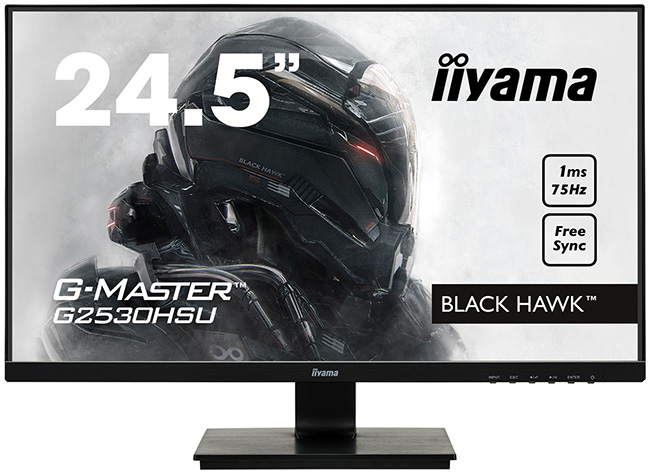 This is a standard TN-type monitor in most regards, however we do like that iiyama has shrunken the bezels on three sides compared to the last generation, though do be aware that the actual panel sits a little further in, surrounded by its own black border. That said, it's an attractive monitor considered at its meagre price point.
Getting it up and running is the usual cinch, requiring the short-neck stand to be tightened into place via a captive screw. Keeping costs in check does mean there's no height adjustment, a problem that's amplified by that short neck, so bear this in mind if your desk setup isn't already at a decent height - a book or two underneath may help. And that lack of adjustment also means that tilt (+22°/-5°) is the only option, though you could attach it to a Vesa mount for more flexibility.
We've been admirers of the joystick control mechanism found on dearer screens and reckon it should be on all. iiyama uses six proper buttons - five for configuration, one for power - located on the bottom-right edge. The on-screen display takes a while to get used to, but if you've come from iiyama in the past, moving around is instantly familiar and reasonably quick.
There's the usual eco mode, a tuner for more vivid, punchy blacks, three gamma levels, and five levels of overdrive. It is usual to tinker with the settings when you get a new screen, so iiyama provides the opportunity of saving three profiles. We'd recommend starting off with 'default', configuring the RGB values as you wish, alter the brightness and settings, and then saving.
Build quality is good if not spectacular. Once in place, touching any of the configuration buttons causes the screen to wobble, and depending upon how close your keyboard is to the screen, typing away furiously can also cause the stand to jiggle. On to better features, the supported FreeSync range is 48-75Hz, available over both HDMI and DisplayPort. That's not wide in the general FreeSync landscape, however, and it therefore brings tearing and stuttering into play as soon as it drops below the minimum supported 48Hz. Also, there's no low-framerate compensation to reduce the effects though we wouldn't necessarily expect that at this price point.
Like its bigger brother, the G2730HSU, further cost-cutting measures are evident in the monitor having two USB 2.0 ports, rather than the more useful USB 3.0, while the twin speakers offer basic performance.

First impressions are consistent with any TN screen we have seen of late. Colours are reasonable and text is clear, which is surprising given that 1080p resolution on a 24.5in screen. Anyone coming from a QHD screen of a similar size will quickly notice the lack of resolution, and we'd urge folk looking more for productivity than gaming to seek a higher-resolution panel.
Image quality deteriorates pretty quickly as you move from head on, but that should only be a problem if more than one person is viewing at a time.
Aimed at the casual gamer who wants to enjoy stutter- and tear-free gaming within an AMD graphics ecosystem, let's first see how it performs in our regular tests before giving it a run out with a Radeon RX 570 in situ.