Introduction
What constitutes a proper PC gaming monitor in 2019? Good question, as manufacturers have played fast and loose with the definition. In our opinion, at the very least, the monitor needs to offer either AMD FreeSync or Nvidia G-Sync adaptive framerate capability alongside a wide supported refresh range. Such thinking precludes cheaper screens with, say, the technology only active between 48-70Hz. Yet such monitors ought not to be dismissed so quickly because iiyama, for example, retails a 24.5in, 1080p screen with said FreeSync support for just £130.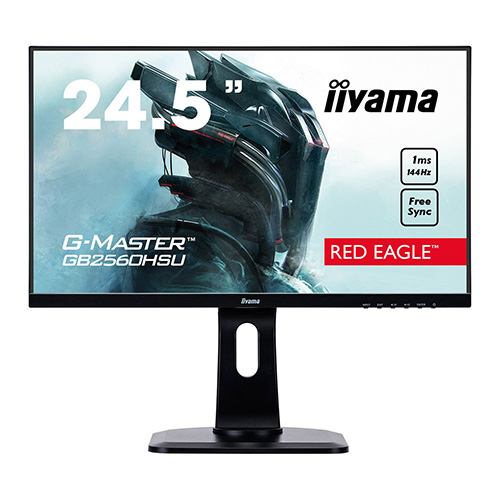 Increasing the specification to meet our gaming monitor definition, however, brings the new G-Master Red Eagle GB2560HSU into play. The minor model number bump hides the fact that this screen, while still 24.5in and 1080p, runs with a faster TN panel capable of supporting AMD's FreeSync between 40-144Hz. That and a much higher peak brightness, quoted at 400cd/m² compared to 250cd/m². Both screens offer 99 per cent of the RGB colour spectrum but just 72 per cent of NTSC.
Extending the gaming appeal further, the monitor is also equipped with Low Framerate Compensation (LFC) technology, where an algorithm, if you excuse the pun, monitors the frame rate and, should it fall below the supported 40Hz, adds additional frames to force smoothness at the lower end of the scale. The idea is to effectively extend the smoothing range down to 20Hz or so. Not that 20Hz should pose a problem for a 1080p screen, mind you, but it's good to know you are covered at practically any frame rate. Being a gaming monitor first and foremost, there is no support for FreeSync 2 and by extension HDR.
Design
It's no surprise to learn that the GB2560HSU uses an identical casing and controls to the G2530HSUs we have previously reviewed. That translates to nice and thin bezels on three sides. It's worth knowing that the actual panel sits a little further in, surrounded by its own black border, but the near-frameless design is attractive enough.
Proper buttons replace the touch-sensitive controls found on some iiyama screens, and we believe the monitor to be generally better off without them, though do be aware that giving a button a firm press makes the monitor wobble a bit more than we'd like.
The stand, meanwhile, takes up little desk real estate and is part of the Red Eagle stable and an upgrade over the fixed-position, short-neck stand on the G2530HSU model (but the GB2530HSU screen uses this stand). There's 130mm of height adjustment - though do be aware that pushing the panel right down to the bottom causes the stand to be visible in your eye line - a pivot function, 22/5° of tilt, full swivel and the usual 100mm Vesa mount. Movement is quite stiff and requires both hands to be used.
iiyama simplifies the outputs to just HDMI and DisplayPort, over which it can run the entire refresh rate spectrum. GB2560HSU retains the two USB 2.0 ports that are sensibly downward facing to enable easy connection of keyboard and mouse. We would not have said no to a further two USB 3.0 ports on this premium model, mind.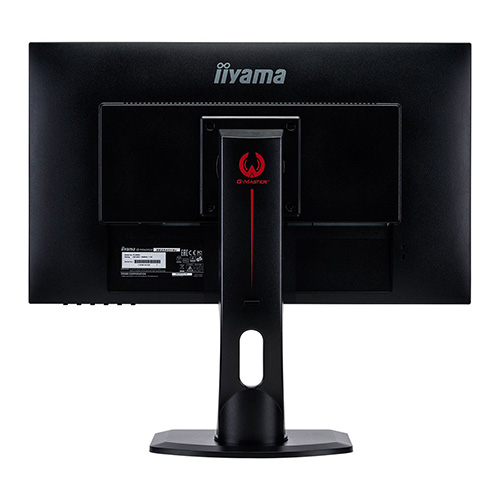 And that brings us on nicely to the thorny issue of price. This better, gaming-specific TN panel pushes the price up from £130 (G2530HSU) to £220. That's a pretty hard premium to take, especially for the kinds of system the monitor will be paired with, yet £200 or so - LG, AOC and Zowie all have monitors in this territory - appears to be the starting point for screens with its 144Hz support.
Let's now see if it is a good fit for the budding gamer.