Introduction
There's plenty of buzz surrounding iiyama's latest release, the G-Master GB3461WQSU Red Eagle, and rightly so. The name doesn't exactly roll off the tongue, but branding will be of little concern to those who have weighed up the attractive specification with the too-good-to-be-true £399 price tag.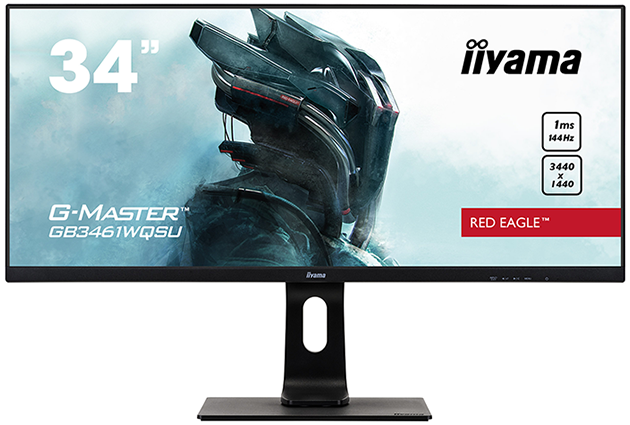 The headline features speak for themselves. Ultrawide 3,440x1,440 resolution, 34in IPS screen, FreeSync Premium support at up to 144Hz, 1ms MPRT response time, and a matte finish that bodes well for both gaming and productivity. None of these features are extraordinary in themselves, but we can't recall seeing this level of overall performance at the more mainstream end of the market, and though £399 isn't exactly pocket change, the GB3461WQSU is shaping up to be something of a bargain.
We've been able to spend the past week getting acquainted with the panel and we can say that the hype is for the most part justified, as nothing else offers this feature-set for under £600, let alone £399. The iiyama represents terrific value for those wanting a high-speed ultrawide that ticks most of the right boxes, but as is to be expected at this price point, there are a few shortcomings to be aware of, and we'll get some of those out of the way first.
Exterior Musings
Let's start with presentation. Though the black frame and stand are inoffensive, the plastic mouldings feel basic, and the panel does have a tendency to wobble on the single arm. There are thankfully no RGB lights, and the top and side bezels are reasonably thin at under a centimetre, helping lend a modern outlook. The simple design is matched by rudimentary controls. Five noisy buttons are located around back, near the bottom-right corner, and they make hard work of navigating the on-screen GUI. We'd much prefer a joystick, though perhaps we should be grateful the buttons are tactile as opposed to touch-sensitive.
A more pressing concern is that there's no curve. We've become so accustomed to sweeping ultrawides that a flat display measuring 80cm from side to side takes some getting used to, and there are pros and cons. The flat canvas is, in our estimation, better suited to productivity, however you may notice a slight colour shift toward the outer edges, and when gaming, users who are accustomed to a curve may lament that extra sense of immersion. There's no right or wrong, but having spent some time acclimatising to the flat form factor, I still have that nagging feeling that I'd prefer a slight curve.
These are minor niggles in the grand scheme of things, so let's talk about the things that iiyama does well. While the removable VESA-compliant stand might look basic, it offers generous flexibility, with up to 130mm of height adjustment, the ability to swivel up to 45° to the left or right, and +22°/-3° of tilt. Worth noting that it technically supports a 90° pivot, but don't try it at home; the panel is too wide to accommodate such an orientation and there's a warning sticker to that effect. We'd prefer iiyama use a stand that doesn't pivot at all, to prevent any mishaps and help keep the display centred at all times.
Overall dimensions of 817 (W) x 415-545mm (H) x 230mm (D) will feel dramatic to anyone experiencing an ultrawide for the first time, and iiyama stocks the GB3461WQSU with a decent array of ports. Lining the back of the panel, these include two HDMI 2.0, two DisplayPort 1.4, a headphone jack and dual USB 3.0 ports, alongside a pair of perfunctory 5W stereo speakers. The power supply is integrated, meaning no external brick, though the USB ports would be easier to reach if located on the monitor's side; plug your peripherals in beforehand as the ports are fiddly to locate on the underside.
Ultrawide Goodness
As for the panel itself, well, there's plenty to appreciate. We had feared that backlight bleed could be a cause for concern at this price point, yet are pleasantly surprised to find little in the way of bleed and only minor clouding on our review unit. It is noticeable in a dark room, but not off-putting, though of course your own mileage may vary.
Out-the-box colour accuracy is better than expected, the IPS tech doesn't suffer from black crush as a VA panel might, up to 350 nits of brightness is adequate, and FreeSync is the cherry on the cake. iiyama's implementation offers adaptive framerate synchronisation in the 48Hz to 144Hz range via DisplayPort (HDMI is limited to 120Hz), and if you're short on GPU horsepower, FreeSync Premium certification means there's support for low framerate compensation, too.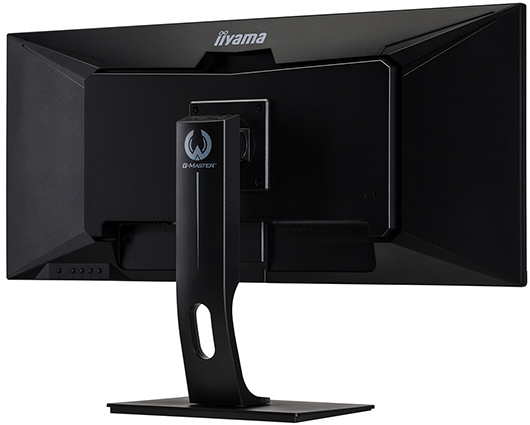 iiyama gets most of the essentials right, but don't expect much in terms of HDR performance. Although technically HDR Ready - iiyama uses an 8-bit panel with dithering to achieve 10-bit colour support - the screen offers neither the brightness nor contrast to deliver a convincing HDR experience. Note also that HDR and FreeSync are mutually exclusive on the GB3461WQSU - enabling one disables the other - and given the choice, we'd take FreeSync every day of the week.
Taken as a whole, it is the monitor's capability as an SDR all-rounder that belies the £399 fee. The 3,440x1,440 resolution bodes well for productivity, and fire up a game to experience the panel come to life with silky-smooth visuals. Tearing is practically non-existent when employing FreeSync on our Radeon RX 5700 XT graphics card, and we're pleased to confirm that while the GB3461WQSU is not yet officially validated as G-Sync Compatible, we were able to confirm functioning G-Sync support with a GeForce RTX 2070 graphics card.
Ghosting is minimal and in our experience gaming fares particularly well on the Overdrive +1 setting, with good response and nominal undershoot. There is little to distract from what is a highly enjoyable ultrawide screen, but the same provisos that apply to every other high-resolution 21:9 panel are applicable here. Not every game is coded to make full use of ultrawide resolutions - some may not support the native resolution at all - and you will need a powerful graphics card to drive the best part of five million pixels.
An Unexpected Flaw
The G-Master GB3461WQSU ultimately delivers on its promise of ultrawide goodness without breaking the bank, however before you reach for the ol' credit card, there is a sting in the tail. During testing, our review unit has occasionally failed to power-up correctly, with only the left half of the panel coming to life, as shown below.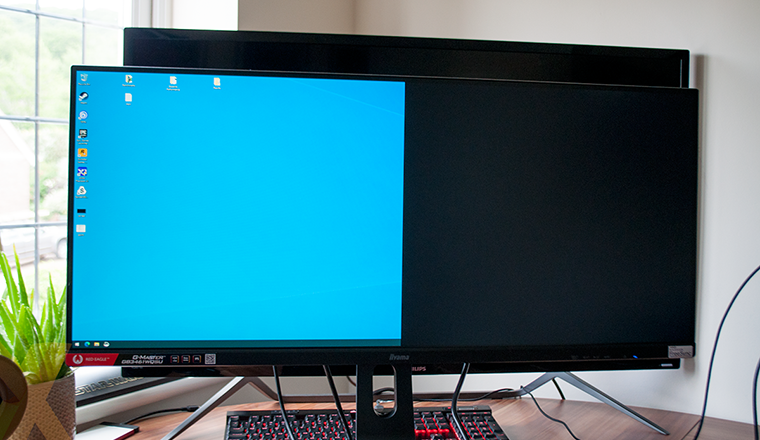 This has occurred when connected to either GeForce or Radeon hardware, implying that the graphics hardware isn't at fault, and simply switching the monitor off and back on has restored the monitor to full working order. iiyama initially suggested a fault in our sample - a second unit is being sent out for further evaluation - but such is the demand for this particular model that most outlets have already sold out, and a few owners appear to be reporting the same problem.
To be clear, this is not expected behaviour, and though a quick power cycle can be used to get around the issue, users experiencing these symptoms are encouraged to contact their retailer at the nearest opportunity. We're hoping it is nothing more than an isolated problem and have since received the following guidance from iiyama:
We understand that 34" Ultra Wide screens across the board are having similar issues, whereby only half of the screen displays an image, until the screen is switched off and then on again. Our technical team believe this is due to several reasons. Firstly, it could simply be how your system boots up. There is a certain order in which the drivers start booting up when a system is switched on from cold. If the OS GPU driver boots before your installed GPU it does not show the correct resolution. However, the most common setting is a slight reconfiguring of some GPU Settings in your registry. The reason why this may be needed, appears to correlate with systems which have had a dual screen set up in the past. So far we have managed to get the below HKEY entries deletion to work.

Navigate to the: HKEY_LOCAL_MACHINE\SYSTEM\CurrentControlSet\Control\GraphicsDrivers\. Delete the contents of the: \Configuration\ and \Connectivity\ sub-directories. View the below and delete the red marked entries. Restart the PC and check if the problem still appears.

If it does reappear, then somewhere in the registry are some older GPU settings controlling the initial start up resolution of a screen. In which case completely delete your GPU drivers and reinstall them from the manufacturers website.
Hardly ideal, and difficult to verify seeing as the bug rarely appears, but it is encouraging to learn that iiyama's technical team is working to resolve the matter. In the meantime, let's turn our attention to the benchmarks.
[Update] iiyama has addressed the above issue with a firmware update. The original editorial remains unaltered and further details are now available at the end of this review.