The performance
A router's presentation and control panel don't mean squat if performance is poor, clearly. We tested the WDR3600's throughput by using the PassMark PerformanceTest benchmark.
Wired performance was evaluated by connecting the router's Gigabit ports to two Intel Core i7 machines using the same Realtek 8111 Gigabit LAN (7.049.0927.2011 driver).
Wireless performance was conducted by using an AMD Llano laptop with a USB-based N53 (2x2) WiFi adapter from ASUS. We tested at two distances that are labelled 'near' and 'far' in the following graphs. The near distance represents performance at five feet, with a direct line-of-sight between router and laptop. Meanwhile, the far graphs denote performance once the laptop is situated 35 feet away, with three (hollow) intervening walls providing signal resistance.
Tests were run five times, with the lowest two discarded and the remaining three averaged.
For full disclosure, we had to manually select a different channel for the 2.4GHz tests. The default channel occupied a crowded space in which several other Wi-Fi networks were present, pushing performance down to a crawl. The performance on the 5GHz band was consistent across all channels, however.
Wired
Attached to two Gigabit-totin' machines, the WDR3600 managed an average throughput of 857.6Mbit/s (107.2MB/s) over the three-minute test period. The number's excellent and comfortably above the 685.6MBit/s provided by the previously reviewed ASUS RT-N66U. We have no real explanation why the TP-LINK is consistently faster.
Wireless - near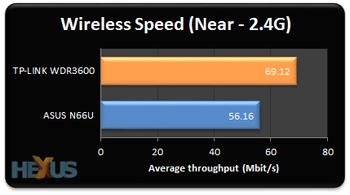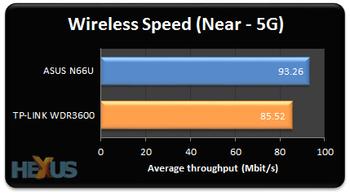 The ever-escalating speeds of home broadband mean that users need to jump on the 5GHz band to make the most out of super-fast Internet speeds. There's a clear advantage to the higher-frequency band. That said, performance in the 2.4GHz space was actually better than the ASUS'. Further testing with a TP-LINK WDN3200 N600 Dual Band adapter provided no meaningful uplift in performance for either band.
Wireless - far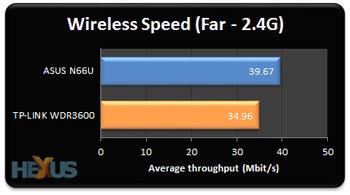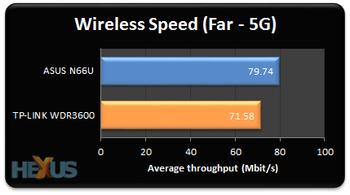 Putting the onus on coverage at a reasonable distance, performance dropped by around 50 per cent on the 2.4GHz band and just under 20 per cent on the 5GHz band. Internet browsing remained snappy and playback of high-definition content (720p, h.264) was stutter-free.
Range
The HEXUS editorial office is located on the second floor of a large, purpose-built building. To test the range of connectable Internet - which maxes out at around 20MBit/s - we chose four arbitrary distances and, using Speedtest.net, determined the speed of the Internet connection using either the 2.4GHz or 5GHz bands.
| Band | 5ft - same room | 60ft - same floor | 80ft - lower floor | 100ft - lower floor |
| --- | --- | --- | --- | --- |
| 2.4G | 16.2MBit/s | 6.25MBit/s | 2.25MBit/s | Poor connection |
| 5G | 16.7MBit/s | 5.80MBit/s | 1.37MBit/s | No connection |
The 2.4GHz band provides greater connectable distance. Bear in mind that the WiFi signal needs to push through numerous hollow walls - there are five offices between the router and laptop in the 60ft test - and, in the more difficult tests, through an entire semi-soundproofed floor.
USB-attached performance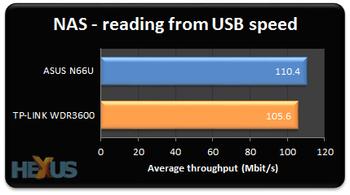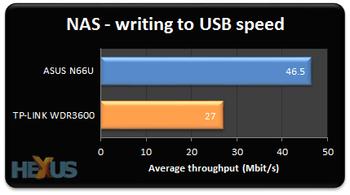 This test involves using a Corsair Voyager GT 64GB USB 3.0 pendrive and transferring a 3.26GB ISO file of Windows 8 to-and-fro a Gigabit LAN-connected machine. The ISO was written to the host SSD in a shade over four minutes, providing average throughput of around 13MB/s, and certainly good enough for streaming all manner of high-def. content. Writing the file back to the stick took over 15 minutes, however, reducing the average speed to around 3MB/s.
Power, heat and basic reliability
Running with a Gigabit port and 5GHz wireless working concurrently and at full chat, the WDR3600 pulls 9W from the mains. The unit remained cool at all times, with the underside no warmer than 33°C after a 45-minute stress test. The router also passed our basic router stability test that involves continuous wireless and wired access over a 12-hour period.