Introduction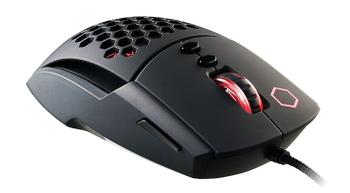 Thermaltake's venture into the gaming peripherals market has accelerated since the establishment of its dedicated gaming sub-brand Tt eSports. Offering an array of keyboards, headsets, mice and other gaming accessories Tt eSports has already acquired the attention of many PC gamers for its extensive choice and competitive pricing. The company's latest addition to its gaming portfolio is the Ventus ambidextrous gaming mouse.
Coming in at a fiercely-contested sub-$50 MSRP the Tt eSports Ventus needs to offer something notable to lure PC gamers away from well-established ambidextrous gaming mice in the same price bracket such as the Razer Abyssus, SteelSeries Sensei or CM Storm Recon.
Design
It's fair to say that the Ventus abides to a bold and brash gaming design thats unlikely to appeal to the crowd who enjoy sophisticated designs as propagated by the likes of Func or Mionix. The Ventus aesthetic is shaped by a rather unique feature that few mice possess, palm-ventilation.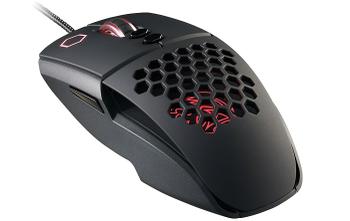 The main body of the mouse is finished with soft-touch rubber and a hexagonal mesh which opens up onto a red LED-illuminated Tt eSports logo. The aim of this meshed area is to provide airflow to the palm to prevent sweaty hands during gaming, a novel idea that feels better crafted than Tt eSport's Black Element Cyclone which had a clunky fan attached to the front of the mouse.
In terms of buttons Tt eSports tout this as a seven button mouse - left click, right click, scroll-wheel click, the two centre buttons and the two thumb buttons. Only a single thumb-button on each side is a little disappointing, as we prefer gaming mice that sport at least two buttons per side.
The underside of the Ventus has two raised Teflon rubber feet for a smooth glide on a variety of gaming surfaces. The laser sensor Tt eSports equip is placed off-centre and is capable of up to 5,700 DPI, based on the Avago ADNS 9500. Tt eSports do not, at present, provide an optical sensor alternative to gamers who have an aversion to laser acceleration.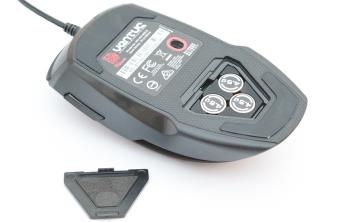 For such an affordable mouse the inclusion of a weight system is potentially pleasing, but with just three 4.5g weights included there isn't a great deal of flexibility with regards to the weight. 13.5g added or subtracted is barely noticeable to an already lightweight mouse, 20g or higher would be more practical.
Software
Tt eSport's software implementation, which is specific to this particular model, comes with a reasonable array of tweaking options. Under the performance section users can alter DPI presets, use independent X-Y axis adjustments, control lift-off distance and the polling rate. The DPI is granular down to increments of 100 which is useful for precise customisation.
There are numerous options missing from the software which we feel should be present including pointer sensitivity, double click speed and scroll speed. Said features can be adjusted through the Windows mouse utility, but to provide a better and unified user-experience they should be adjustable via the bundled software. Furthermore, the LEDs which are included on the Ventus also lack the ability to change colour, the options are limited to on-and-red or off.
Button assignment and macro controls are fairly typical of most gaming mice. Users can individually assign and reassign the function of any button on the mouse and configure different button assignments to up to five profiles that are stored locally on the 128KB of onboard memory. These macros can include mouse and/or keyboard combinations but sadly do not include the ability to insert any Windows functions. The only Windows functions that are accessible are forward/back and volume controls which must be bound as standalone buttons.
The macro editor is among the weaker software implementations we've tested. Aside from the fact the software includes spelling errors and poor wording it is also hindered by improper indication of when buttons are usable or not - for example when a button isn't usable it is convention to grey that button or section of buttons out so the end user knows what options are available.
The Ventus' software component is clearly rough around the edges, and to help improve navigation, we'd like to see Tt eSports opt for clearer segmentation of software functions into tabs - four tabs covering performance, lighting, button assignments and the macro editor would be sufficient. A final absence worth noting is an updater function for the software and the mouse firmware - typically you'd expect to find these options within the software for ease of use.