Introduction
It may surprise you to learn that HyperX, the enthusiast arm of Kingston Technology, has been around for 17 years. In that time, it has built up an arsenal of products spanning headsets, mice, storage, audio, keyboards and memory. HyperX covers much of the same ground as Corsair. That similarity extends to enthusiast memory, with HyperX using Fury and Predator sub-brands for desktop DDR4. Both ranges are available with and without RGB lighting.
Predator DDR4 scales to 4,600MHz for non-RGB and 4,000MHz for RGB, matching the top-line kits available from the competition. Fury RGB, meanwhile, adopts a more value-driven approach by using standard-profile modules with a 2,400MHz to 3,466MHz frequency range, and it's a 16GB (2x8GB) pack of DDR4-3,200 Fury RGB we're taking a look at today.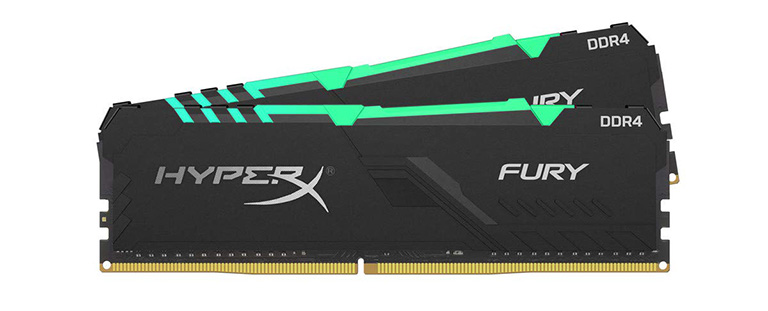 Also available as 32GB (2x16GB) and 64GB (4x16GB) sets, HyperX Fury RGB is, in many ways, an exercise in design restraint. Modules measure 41.24mm tall, enabling them to fit into the widest range of systems, while the timings are either CL15 or CL16 depending upon speed. HyperX is aiming at the meat of the market by equipping them with either a 1.2V or 1.35V operating voltage.
Zooming into today's review modules, going by the manufacturer part number HX432C16FB3AK2/16, these Fury RGB sticks offer 16GB of capacity (2x8GB) along with DDR4-3,200 speeds and middle-of-the-road 16-18-18 timings at 1.35V (XMP1). They are also plumbed in with DDR4-3,000 speeds together with marginally tighter 15-17-17 latencies and the same 1.35V (XMP2), and each profile is activated in the BIOS. From our testing on X570 and Z390 chipset-based boards, they rebooted to the correct speeds and feeds every time, meaning they're practically plug and play.
General heatspreader design harks back to modules released five years ago, before the world got caught up on massively-oversized, irregular-shaped cooling. The aluminium heatspreaders still have interesting cutouts and flares that are more for show than genuine cooling purposes - the twin modules barely become warm to the touch after extended load. Unlike previous sets, Fury RGB is only available with black sides.

There is, in our estimation, still a bit too much branding on the modules, as each stick has a HyperX name on the top (does it really need to be there?) as well as on one side. The other carries sticker information reporting on a host of non-relevant details for most.
HyperX makes mention that the modules are compatible with its lighting ecosystem NGenuity software, but that's actually not the case as using version 5.2.8.0 fails to pick up the sticks. The reason is quite simple; looking on another page shows that only a couple of mice are currently supported. It's no big deal, really, as motherboard-specific lighting utilities from Asus, Gigabyte, ASRock and MSI can control the RGB. We used Asus' Aura Sync for easy-peasy illumination. As expected, Fury RGB uses the firm's IR syncing to keep the modules correctly pulsing together without any explicit software control.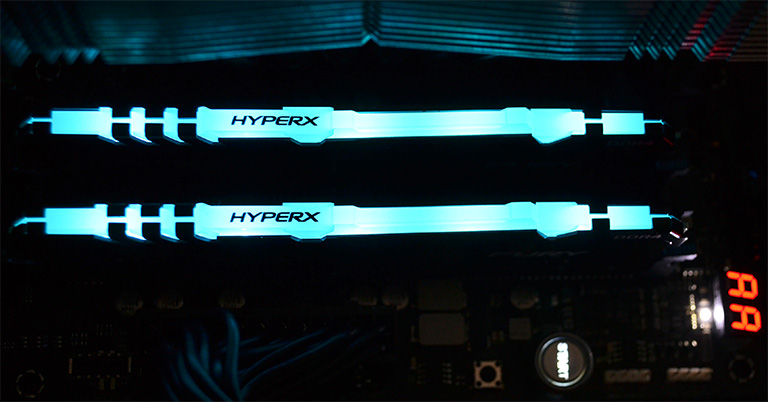 Though sticks are only 7mm thick, the lightbar does a good job of providing punchy, vibrant colours that are consistent across the diffuser. In fact, the RGB lighting is brighter, comfortably so, than that contained on the Asus ROG X570 Crosshair Hero VIII WiFi we primarily tested upon. No complaints on this front, so whilst they are not as eye piercing as, say, the latest Corsair Capellix-infused memory, most enthusiasts will be happy.
Prizing away the simple heatspreaders shows that Kingston uses SK Hynix ICs instead of Samsung on the previous-generation Fury models. The DRAM is only on one side for 8GB sticks; the other is left bare. It is reasonable to assume that the 16GB sticks populate both sides, keeping per-IC capacity the same.
Some good news is the review set fetches about £90 at retail. That's about the same price as RGB-equipped memory specified at the same speed by others, though do be aware that if you drop down to 2,666MHz speeds, kits are available for a tenner less on the same 16GB capacity.
Simple and effective in every sense, let's now run some benchmarks to see the HyperX Fury RGB makes sense for your next upgrade.