Introduction
Though solid-state drives (SSDs) have made a big splash inside the PC, the market for external PC storage remains dominated by the humble mechanical disk. The reason is simple enough: capacity, and anyone looking to store more than 1TB invariably heads towards a pre-packaged solution housing a large-capacity 3.5in drive - a tried-and-trusted combination.
That's not to say these external enclosures are boring. Seagate upped the design stakes with its USB 3.1 Type-C-powered Innov8, LaCie's efforts can hardly be described as ugly, and now a 'new' entrant vies for your style points and wallet. Enter the G-Technology G-Drive Thunderbolt 3.
Never heard of 'em? G-Technology has no fewer than 35 product lines ostensibly posited towards, as the company puts it, some of the 'highest-performing and most reliable leading-edge storage solutions for end-to-end creative workflows.' The name may evoke notions of one-man Chinese start-up, but G-Technology is wholly owned by HGST (formerly Hitachi Global Storage Technologies), which is in turn a subsidiary of Western Digital. It is reasonable to think of G-Technology as the professional arm of the storage giant.
Expectations, therefore, ought to be high. The Thunderbolt 3 variant is offered in five single-drive capacities ranging from 4TB to 10TB, while the USB Type-C-only version runs from 4TB through to 10TB.
Our review sample is the 8TB Thunderbolt 3 priced at a whopping $530, or a massive $230 more than the USB version of the same capacity. Ouch.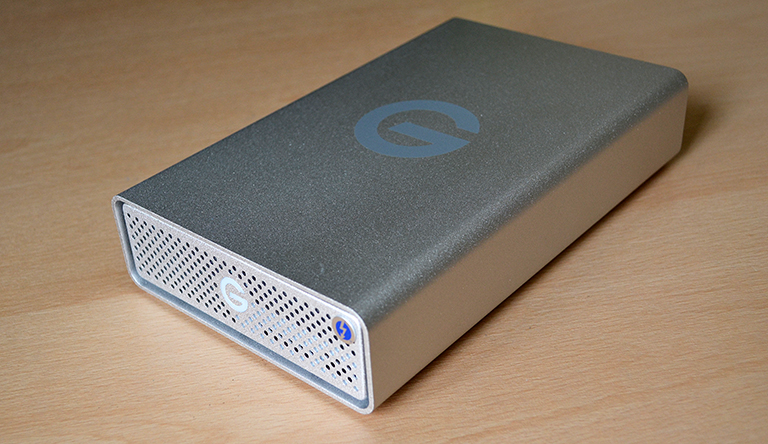 General styling is in keeping with a premium drive, if not quite as striking as the Seagate Innov8.The extruded aluminium enclosure's fit and finish is top notch, and Thunderbolt 3 compatibility is shown by the blue sticker on the front. It's neither small nor light, measuring 210mm x 130mm x 45mm and tipping the scales at just shy of 1.2kg. And if you want to travel, you need to factor in the extra 215g or so for the black fanless external adapter that's required at all times.
The big G lettering on the top is superfluous, because it simply breaks up the style. On the front, the smaller G lights up when the drive is being accessed. The company bundles in a 60cm Thunderbolt cable, a Type-C to Type-A USB cable, and backs this model with a five-year warranty, up from two years on the USB-only iteration.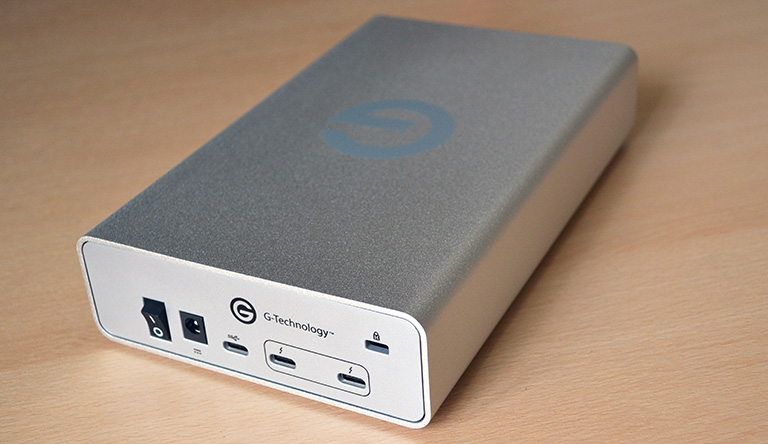 Around back, Type-C hooks up to a USB 3.1 Gen 1 (5Gbps) controller. We would bemoan the sole inclusion of the first-gen standard if this was an SSD, but being a mechanical drive, there is still more than enough bandwidth via USB 3.1 G1 to service the drive's flat-out speed. Next door are a couple of Thunderbolt 3 ports enabling you to use the G-Drive in a daisy-chain with five other TB-connected drives. Note that you can also use the Thunderbolt cable, which is Type-C on both ends, to connect via the USB port.
And that's yer lot. Inside, rather predictably, resides an HGST HUH728080ALE604 Ultrastar He hard drive, helping explain some of the price premium over the USB-only model that uses a much cheaper 5,400rpm spinner. There's a potential 250MB/s read and write on tap, according to the specs, so it is one of the quickest 3.5in drives around.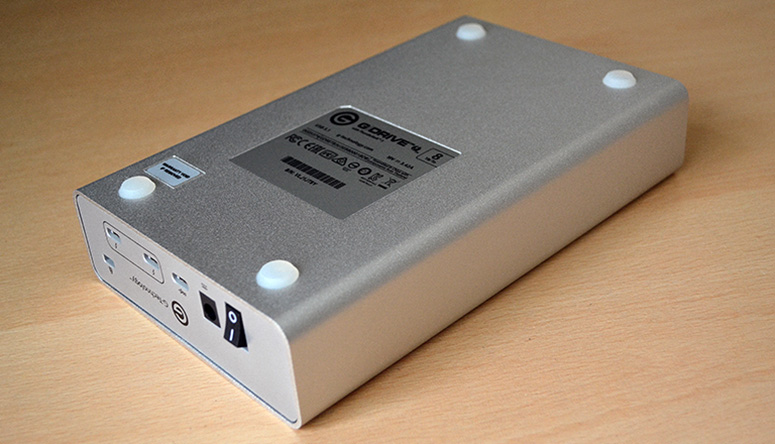 The four rubber feet have a hard time taming the noise made by the high-performance HGST drive. The G-Drive is surprisingly loud when idling, and there is enough vibration to cause genuine annoyance when placed on a thick wooden table. In fact, said vibration can be felt through a mouse sitting three feet away. We resorted to placing the drive on a thick mouse mat, reducing the noise and vibrations by over half.
As shipped, the drive is formatted for Apple (HFS+). Windows users will need to format to either NTFS or, preferably, exFAT, for full-fat access on both OSes. There's also little in the way of accompanying software. A basic tool enables formatting, but there's no option to schedule backups on Windows or add security, which is an oversight in our opinion.