Introduction
A fast and portable external storage device has to be one of the most useful PC accessories you can own, and thanks to the widespread availability of flash-based solutions, today's external drives are more versatile than ever before.
Capacities are now large enough to store and move significant amounts of data between multiple PCs, and transfer speeds have improved to such an extent that you can work on a USB-attached drive as if it were an internal disk. Handy if your laptop doesn't have the storage required to edit those 4K video clips.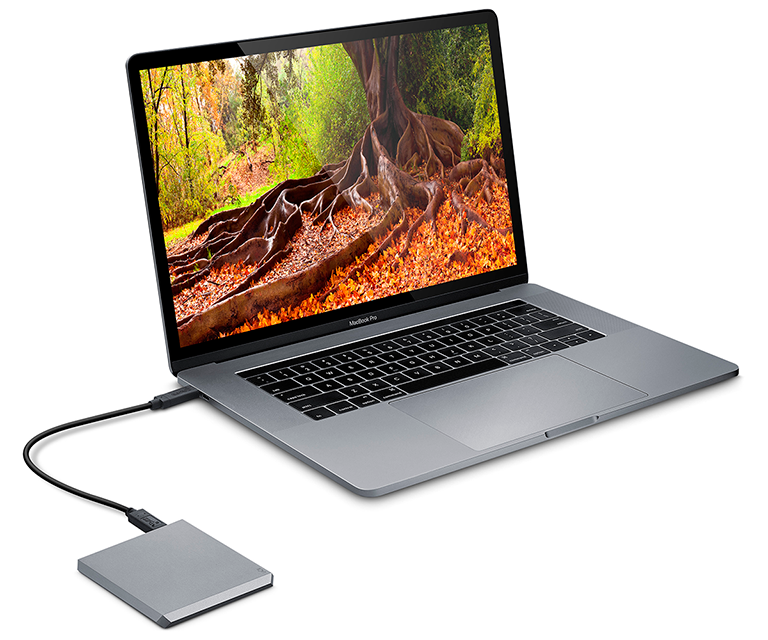 Seagate has previously impressed in this arena with the aptly titled Fast SSD, but if you're hoping for something a little more up market, its premium arm, LaCie, has an alternative dubbed the Mobile SSD. First introduced back at CES in January, this sleek-looking external drive has now made its appearance exclusively at the Apple Store in 500GB, 1TB and 2TB capacities. Trouble is, products sold at this venue typically aren't cheap, and the LaCie Mobile SSD is no exception, with pricing coming in at $140, $270 and $500, respectively.
UK availability is still to be confirmed, but there's clearly a premium attached to LaCie's offering. 2TB alternatives from the likes of Samsung, SanDisk and WD are readily available in the region of $400, so why shell out an extra 25 per cent or so for the Mobile SSD? The answer is almost entirely superficial, as LaCie's drive is internally in keeping with most competitors. That means speeds of up to 540Mbps, USB-C connectivity, and support for both Mac and Windows. For the record, the Mobile SSD is pre-formatted as exFAT for cross-platform compatibility, but LaCie clearly sees this as a Mac solution first and foremost.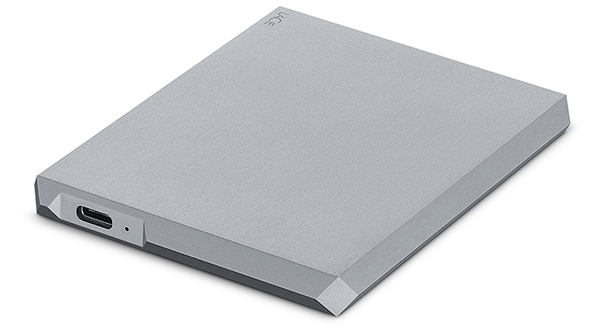 Finished in a diamond-cut design intended to celebrate Lacie's 30th anniversary, the Mobile SSD is without a doubt one of the trendiest external storage solutions going. Dimensions of 98.4mm x 78.4mm x 9mm make it easily pocketable - the drive is comfortably smaller than many modern smartphones - and though it employs a rigid all-aluminium enclosure that feels plenty strong, our 2TB review sample weighs just 100g. Portability is excellent, and we're told this casing has the added benefit of increasing drop resistance from two meters to three. The extra protection is welcome, but do be mindful if you tend to just throw your drive into a rucksack - the angular tips are actually somewhat sharp, and we suspect they may scratch other items with ease.
Those edges come together to provide a modern look, the LaCie branding is minimalist, and all that punctuates the sleek exterior is the single Type-C jack and small status LED. As is the case with most current drives, LaCie includes two short cables as part of the bundle; one Type-C to Type-C; and one Type-C to Type-A for compatibility with legacy systems.
The drive's credentials are bolstered by a three-year warranty that includes LaCie's Rescue Plan for data recovery in the event of failure, and you also get a one-month trial of Adobe Creative Cloud. Disk management is available via the free-to-download LaCie Toolbox utility, but none of the apps are required in order for the drive to function. The optional software feels like a token gesture; the real incentive for Apple fans is that the drive comes in Space Grey, making it a fine match for current MacBooks. The cynics among us might refer to the price premium as an Apple tax, but it has to be said, if pricing is no deterrent, the fit and finish of the Mobile SSD is very nice indeed.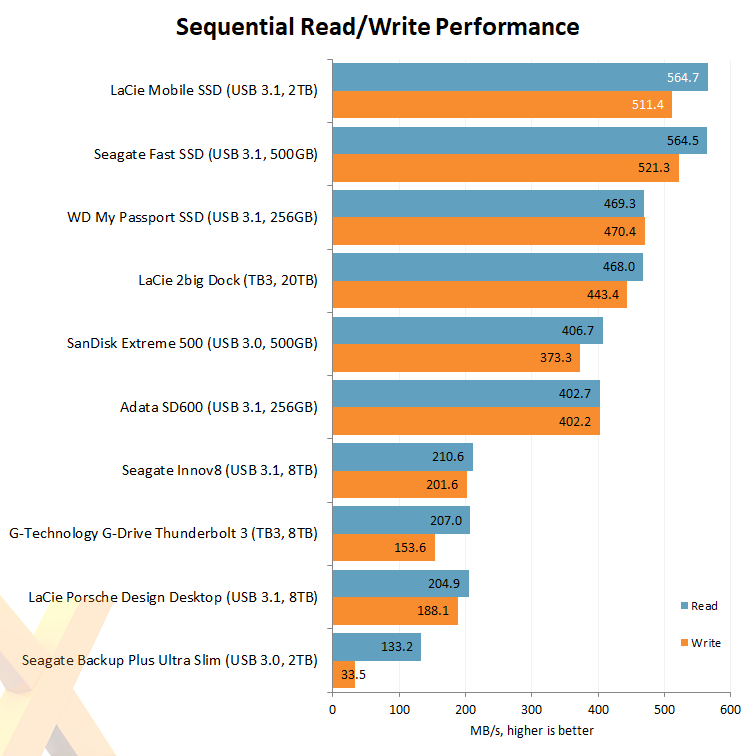 You might be paying more for LaCie's admittedly fashionable presentation, but that doesn't change the fact that this remains a suitably quick drive. When attached to our Core i7-8700K test platform via the bundled Type-C cable, we were able to record sequential read and write speeds of 564.7MB/s and 511.4MB/s, respectively. On par with the best we've seen from external USB drives, however given the capacity of the 2TB drive, do bear in mind it would take just over an hour to fill the entire volume.