Introduction
The arrival of Nvidia's GeForce GTX 1080 has given system integrators fresh impetus in their drive to build high-end base units that consumers are going to want. Demand is expected to be high as we enter the 4K/VR age, and Scan Computers is building a catalogue of suitable rigs that promise enthusiast-grade performance for those with deep pockets. The pick of the bunch, in our estimation, could well be the understated 3XS Z170 Vengeance Q.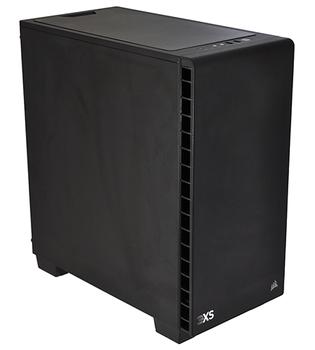 Priced from £1,530 and available in a choice of configurations, the Z170 Vengeance Q belongs to Scan's Quiet Computing range and is said to have been "specially designed to make the least amount of noise possible." Achieving such a feat has historically proven difficult when working with high-performance components, yet the latest generation of CPUs and GPUs suggest that the Bolton-based SI should be able to deliver potent speed in a whisper-quiet form factor.
Crucial to any quiet build is the chassis, and Scan has opted for Corsair's Carbide Series 400Q. No surprise, given that Scan and Corsair share an established working relationship, and the 400Q serves as a safe bet for a sleek mid-tower with sound-dampened panels. The only caveat, we feel, is that Corsair's stock fans tend not to be the quietest. Should you prefer an alternate option, Scan has a few choices among its configurator, and the pick of the bunch is arguably the Fractal Design Define R5. It'll set you back a further £35, but in return you'll have optical bays, a built-in fan controller and quieter fans.
The noise profile of chassis fans is often overlooked, but Scan is clearly paying attention to the details. Popping open our review system's side panel reveals that the default Corsair fans have been swapped out in favour of Noctua alternatives - an NF-P14S-REDUX-900 as the front intake and NF-S12B-REDUX-700 for rear exhaust.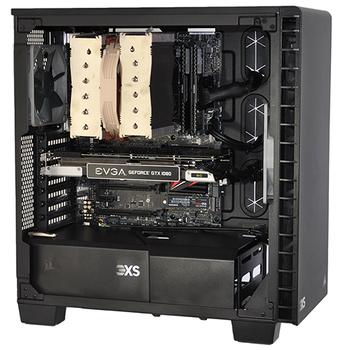 Browsing the rest of the tidy-looking build doesn't reveal any major surprises. Sat atop the Asus Z170 Pro Gaming motherboard is an Intel Core i7-6700K processor overclocked to 4.4GHz across all cores, 16GB (2x8GB) of Corsair Vengeance LPX DDR4-3000 memory and latest-generation graphics courtesy of an EVGA GeForce GTX 1080 SC Gaming ACX 3.0 discrete card.
Scan's 6700K overclock is rated at 4.6GHz in other builds, but we're told the Vengeance Q's 0.2GHz discrepancy is in place to keep noise levels down as low as possible. It's a trade-off we're willing to make, and we're pleased to see that Noctua's NH-D15S cooler is the default choice. This is one of the best air coolers available, and though the beige colour scheme doesn't blend well with most builds, the NH-D15S provides very good cooling performance with hardly any noise.
Elsewhere, a 650W Corsair RM650x PSU delivers the juice, while the storage configuration is twofold. A 256GB Samsung 950 Pro NVMe M.2 SSD serves as the system disk, and there's a 2TB Seagate SSHD for secondary storage. A logical combination for this particular build, though if you absolutely must avoid any mechanical drive noise, the system can configured only with SSDs.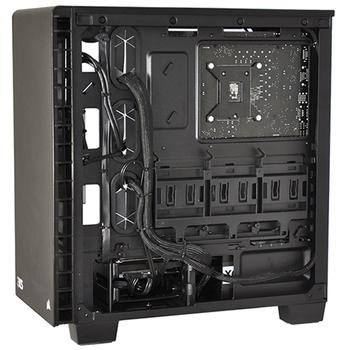 Scan's hardware is pretty much in line with what we'd choose for a quiet GTX 1080-powered machine. In fact, Vengeance Q is remarkably similar to the test platform we've put together for high-end graphics benchmarking. The obvious caveat to machines of this ilk is cost, with our review configuration fetching £1,770. Hardly surprising, mind, given that the graphics card alone is worth around £600 at retail.
Building a system of similar specification would save you roughly £150, give or take, yet there is added peace of mind when buying built from a reputable manufacturer. If reliability is key, it's worth noting that Scan's machines undergo an eight-stage build process that's fully trackable online, followed by a 24-hour stress test and an 88-point quality control check.
Once passed, dispatch is within five days (three if you opt for fast track) and the system is backed by a three-year warranty that includes on-site parts and labour for the first 12 months. Scan's bundle also includes a 16GB USB thumb drive that carries a full system image for easy restoration, as well as various diagnostic utilities. None of these value-adds can replicate the fun of building your own PC, but if it's convenience and reassurance your after, the 3XS Vengeance Z170 Q is ticking all the right boxes.