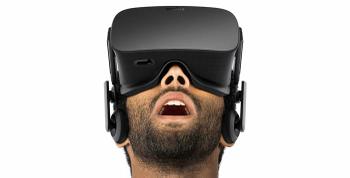 Still waiting to get a 4K UHD, 3D-enabled HDR TV? You may want to put any such plans on hold, as there's another acronym that's set to raise the bar for visuals to a whole new dimension.
Yep, we're talking about VR. Having taken centre stage at all the major technology trade shows over the past few years, virtual reality is being heralded as the next big thing for 2016, and various big-name players are introducing headsets that look set to invade our homes.
Pre-orders have already started for the Oculus Rift, and others such as the PlayStation VR and HTC Vive will follow shortly. Plenty to whet our appetites, and from what we've experienced in demos, virtual reality could well live up to the hype.
Not that there aren't major hurdles, mind. Price is prohibitive, compelling games/use cases are something of a mystery, and it remains to be seen whether or not the isolation of a headset will appeal to mainstream audiences.
It's a hot topic nevertheless and we're intrigued to hear what you, the tech enthusiasts, make of VR technology. So for this week's question, let us ask: are you planning on buying a virtual reality headset? Share your thoughts using the comments facility below.