Samsung's short-neck CRTs
Samsung short-neck High-Definition CRT. Keepin' the ol' dog goin'.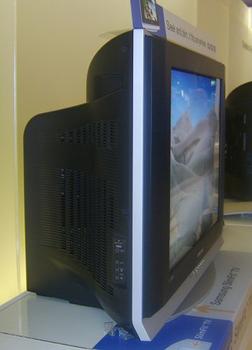 Samsung is also unveiling a 29-inch CRT television with a couple of twists. The first advantage, Samsung claims, lies with the shallow depth of the chassis, measuring just 415mm as opposed to most 29-inch CRT's space-hugging 600mm depth.

Even better than the size, however, is the input connectivity, which includes HD support as standard. Multiple HD support encompasses 1080i and 720p at 50Hz/60Hz, and makes the Samsung SlimFit CW29Z408 a rival to the growing number of HD-ready LCD displays already on the market. It will be interesting to see how the legions of CRT users that haven't made the jump on over to LCD but are teetering on the edge of doing so, will perceive an HD-compatible CRT.

The CRT isn't dead just yet. Samsung's put some life in the old CRT dog with its latest take on CRT aesthetics and technology.