The woes of being a sequel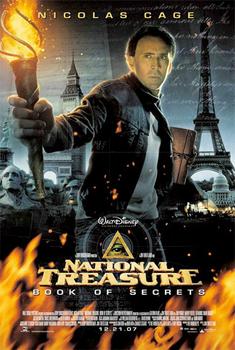 National Treasure: Book of Secrets, sequel to 2004's action adventure reunites cast and crew for another outing. Though 2004's National Treasure proved to be a generally entertaining piece, can director Jon Turteltaub, producer Jerry Bruckheimer and stars Nicolas Cage, Diane Kruger and Justin Bartha produce an entertaining adventure second time around?
Unfortunately, it appears not. In a year which will see action-adventure maestro, Indiana Jones, return to the screen, perhaps the time was never right for Nicholas Cage to undergo a second outing as Ben Gates, history fanatic turned adventurer.
The story trying to pull along this sequel doesn't offer an awful lot. It begins with Ben Gates heading a presentation about John Wilkes Booth, assassin of Abraham Lincoln. Following Gates' presentation, Mitch Wilkinson (Ed Harris) appears from the audience to reveal a missing page from Booth's diary. The page highlights the involvement of Thomas Gates, Ben's great-grandfather, in the assassination of President Lincoln. From then on, the movie revolves around Ben's search for the truth, which he hopes will clear his family name.