A Perfect Workout Partner?
When going to the gym or for an outdoor run, it used to be your own internal battery that needed topping up between sessions. These days, my own energy levels have become something of a secondary concern, as it's the accompanying gadgets that need to be fully charged before I set out.
A smartphone and a GPS watch are two frequently-used accessories, and there's now a third rechargeable gadget that stays with me on every workout: the Plantronics BackBeat FIT.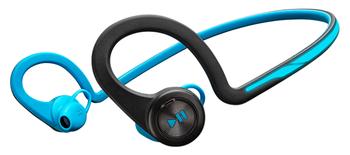 Priced at a significant £120, the wireless stereo headphones are designed primarily to eliminate cable clutter during workouts. Available in a choice of Electric Blue or Lime Burst colours, the BackBeat FIT is a premium bit of kit aimed at highly-active gadget aficionados, and if that sounds like you, there's a lot here to like.
Design
Despite having to shoehorn in Bluetooth 3.0 connectivity and an internal battery, the BackBeat FIT is a surprisingly light and nimble headset. Plantronics has been able to keep the weight down to 24 grams, and battery life is rated at up to eight hours listen time or up to six hours talk time. It'll keep going for 14 days of standby, but what's really handy is the built-in 'DeepSleep' hibernation mode. Leave it out of range of your phone/tablet and Plantronics reckons it'll hold a charge for up to six months.
Doing away with cables is a real boon, particularly at the gym where you're frequently changing exercises, and Plantronics has come close to nailing the design in terms of comfort. A behind-the-head wearing style suits even the most vigorous activity and the headset always feel secure. The rubberised band has just the right amount of flex to it - meaning it wraps the head nicely without flapping about - and a P2i sweat-proof coating will protect against light rain or sweat. Wear the headphones long enough and you do forget they're there.
In an effort to justify the three-figure price, a colour-coded, neoprene carrying case is bundled as standard. What's clever is that the case can be reversed into an armband for your smartphone. A Velcro strap keeps it secured and, as you might expect, the size of the pouch is ideally suited to Apple's iPhone. Larger handsets will struggle to fit, though in all honestly, we wouldn't want the armband to be any bigger - it already feels a little bulky in use.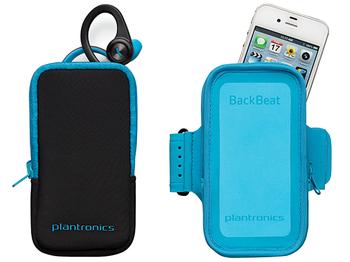 Having your phone stowed away and with no in-line controls, the BackBeat FIT has to have an intuitive control mechanism. The headset automatically enters pairing mode when first powered on to make the initial connection as easy as possible, and subsequent pairings for up to eight devices can be achieved by holding down the power button for five seconds. The wireless connection has proven rock-solid during use - it hasn't once dropped out - and the 10-metre range is particularly handy in the gym, where you can leave your phone in the corner of the room and move freely between machines.
Keeping Control
Getting up and running is simple enough, but there is a bit of a learning curve involved when it comes to using the onboard buttons. Plantronics has just the four available, and they achieve a wide array of functions. The left earphone has a large central play/pause button flanked by a volume button that is raised to make it easier to locate. Mirroring that setup, the right earphone's central button is used for calls, the raised button controls power, and there's an LED indicator that glows red while charging and blue when charging is complete.
All four buttons are easy to find and press during a workout, but it's remembering the various functions that's tricky to begin with. A single tap of the play button with play/pause music, a double-tap with skip to the next track, while a short hold of the button will restart the current track. Similarly, holding the call button will activate your phone's voice controls, tapping it will answer/end a call and, if a call is coming in, the same button can be held to reject the caller.
There's more. Tapping play while on a call doubles as a mute toggle, tapping the raised volume button increases the volume in small increments, and you can hold said button to turn the volume back down. It's worth pointing out that every button press is responsive, and the audio prompts help keep you informed, but there is a lot to remember.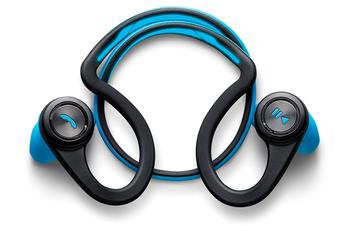 Once you've grasped the available functions, the BackBeat FIT can be very satisfying to use. Reiterating an earlier point, they crucially stay put when running, and the eartip itself can rotate plus or minus 20 degrees to find an optimal fit. We couldn't really fault the size and shape of the tips, but one size rarely fits all and it's a shame Plantronics doesn't include other eartip sizes as part of the package.
There are, however, a couple of extra niceties that aren't immediately obvious at first glance. A reflective strip lines the rear of the headband to keep you illuminated on dark roads - reflective colours on the armband have the same effect - and the package as a whole appears to have been designed with real-world usage in mind.
Up And Running
Our review sample has taken a fair amount of abuse but still looks practically new, and battery life has held up well. We've been able to manage 4-5 gym sessions between charges, so the BackBeat FIT is on average returning to the power point every 10 days or so, and voice prompts provide a rough indication of how much juice you have left - low, medium or high. When it does run empty, a small flap reveals access to a standard micro USB charging port - there are thankfully no proprietary connectors here.
What's interesting is that Plantronics' eartips aren't designed to be buried in your canals. Rather, they sit a little loose so as to let in ambient noise and keep runners aware of traffic and other potential hazards. This is no bad thing, however as a consequence bass levels aren't quite as impressive as deep-sitting headphones. Still, the 13mm neodymium speakers deliver a pleasant overall sound. There's plenty of volume, clarity is good and we wouldn't ask for much more during a workout. Music playback is clear and well rounded and voices are particularly crisp, making podcasts enjoyable irrespective of outside noise.
But what about call quality? Well, this is the BackBeat FIT's weak spot. Being able to make or receive calls is a handy facility to have, but callers tend to sound muffled and distant, and though the MEMS mic is said to enhance voice quality, listeners on the other end of the line often pointed out a poor-quality experience. As a call-making device, the BackBeat FIT is passable for a quick chat, but isn't anywhere near as good as, say, a Voyager Legend.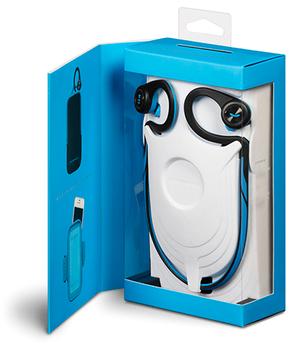 Summary
Price and call quality are two obvious stumbling blocks, but if you're willing to spend the cash and you're looking for a set of wireless headphones that are ideally suited to the gym or outdoor running, Plantronics' BackBeat FIT should be high on your shopping list.
Be it rain or shine, these headphones sound good, are extremely comfortable to wear, built to last, and equipped with enough battery life to keep you entertained for hours on end.
The Good
Comfortable to wear during workouts
Robust sweat-proof design
Decent sound quality
Rock-solid Bluetooth connection
Bundled neoprene armband
Good battery life
The Bad
Pricey at £120
Call quality is average
HEXUS.awards
HEXUS.where2buy
The Plantronics BackBeat FIT wireless stereo headphones are available to purchase from Amazon.
HEXUS.right2reply
At HEXUS, we invite the companies whose products we test to comment on our articles. If any company representatives for the products reviewed choose to respond, we'll publish their commentary here verbatim.