Four arms are better than two when there's killing to be done
It looks so cumbersome, but it feels so good. In fact, getting hands-on with 2K's supernatural action adventure, The Darkness II has left us wondering just why we haven't experienced quad-wielding before.

The new graphic noire style of The Darkness II is immediately striking. Hand-painted art combined with cutting-edge graphical techniques makes it feel like you're walking through the pages of an Alan Moore (Watchmen) novel. It's a vibrant look, with lots of bright, primary colours – a unique visual style that falls somewhere between the look achieved in Bioshock and inFamous 2.

The theme of light and dark once again plays an important part in the gameplay. Step into the light and Jackie winces with pain as the dark sounds of "Jaaaaackie," which kind of sounds like a deeper-voiced Rocky Balboa might sound after a stroke, crudely jarring your ears. Digital Extremes has done a great job at making you want to get out of the light and dark, and with unfriendly voices in your head and the screen getting brighter and brighter, it does feel uncomfortable, unfriendly, and downright nasty.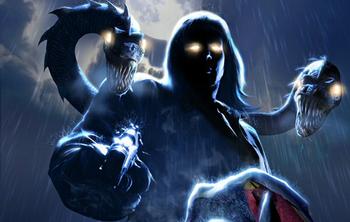 Based on the supernatural horror comic book series created by Top Cow Productions, Inc., The Darkness II takes players down a brutal and personal path as Jackie Estacado, wielder of The Darkness – an ancient and ruthless force of chaos and destruction. The game will break out of the sea of conventional first-person shooters with its fervid Quad-Wielding gameplay, which will allow players to slash, grab, and throw objects and enemies with their Demon Arms while simultaneously firing two weapons.