Techland, the publishers of newly released Zombie survival game Dying Light, has launched a rather pricy special collector's edition of the title which includes a full-sized zombie-proof log cabin among other OTT enticements. In collaboration with UK retailer GAME the limited-to-one Dying Light My Apocalypse edition is now on offer, costing £250,000 (around $385K).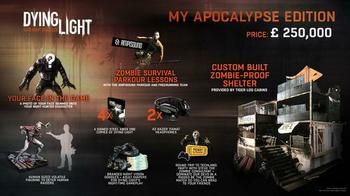 Dying Light was released as a download last month but the boxed edition will only become available on Friday, 27th Feb. It seems like Techland wants to draw attention to this new disc-based launch by offering up this incredibly extravagant package.
So what do you get if you plump for this edition of the Dying Light game, which costs more than many four bedroom period cottages with an acre of grounds in Lincolnshire? The full list of My Apocalypse edition bonuses is reproduced below:
Custom built Dying Light Zombie Home by Tiger Log Cabins
Zombie avoidance parkour lessons with Ampisound, the team behind the internet smash Dying Light Parkour POV video
Be The Zombie match with devs where you win so you can brag to your friends how "leet" you are
Trip to Techland in Wroclaw, Poland, to meet the dev team and party with Steve the Zombie Consultant
Your face skinned onto your Night Hunter character model
Dying Light branded night vision goggles + adult diapers for the night portions of the game
x4 signed Steelbox editions of Dying Light
x2 Top of the line Razer Tiamat headphones
Human sized Volatile figurine to use as a deterrent on human raiders
Eurogamer reveals a few more details about the Dying Light My Apocalypse edition which might help persuade penny pinchers of the value of this bundle. It reports that "The centerpiece of this one-of-a-kind edition is a fortified zombie apocalypse-proofed house that will be built to order by UK-based Tiger Log Cabins. The house comes fully equipped with all live-in amenities and also includes an upper deck with vantage points and an escape hatch, arsenal storage for weaponry, and of course a living area with TV, Xbox One, and the latest sound system to play Dying Light on".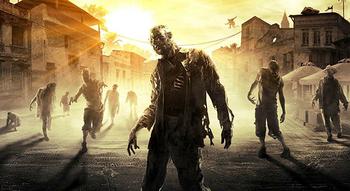 Unfortunately without any (post-apocalypse waste-)land and planning permission included in the deal some councils might frown upon your new zombie-proof pad. But will the full-sized Volatile figurine keep them away?
At the time of writing the Dying Light My Apocalypse edition remains unsold.