Electronic Arts has confirmed that 2010 FIFA World Cup South Africa will be released in April 2010 in anticipation of the real-world tournament which begins in June.

Alll 199 national teams that took part in qualification will be playable and all 10 official stadiums South Africa stadiums will feature. Gamers will be able to play as their home nation from qualification right through to a virtual reproduction of the FIFA World Cup Final.

For the first time ever in a videogame there'll be a full and authentic online World Cup tournament, where we can battle against fans from rival countries, from the group stage through the knockout rounds to the chance to be crowned 2010 FIFA World Cup South Africa champion.

New features include home and away strategies for every nation, situational tactics in-game, and altitude effects that fatigue players faster and even impact the flight of the ball.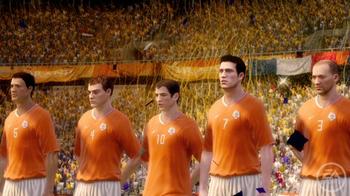 2010 FIFA World Cup South Africa will be released on Xbox 360, Wii, PSP and mobile in April 2010 .