A deadly virus is once again sweeping the globe
Nestled among some of the big budget, blockbuster games at Sony's PS3 Beta event last week was relative small-fry Dead Nation, a multi-directional arcade-style shooter from Housemarque, the creator of the brilliant and highly addictive Super Stardust HD.

Destined for PSN this Fall, Dead Nation utilises the top-down view-point giving you a 360 degree view around the 'B' horror movie inspired environments as zombie masses attack you from all angles. You play as one of the survivors of a deadly virus who is hell bent on helping rid the world of thousands of zombies that now roam the streets looking for humans to feed on. The storyline is totally cliched, but we weren't expecting Resident Evil quality from a PSN zombie shooter - it sets the scene and that's all you really need.

The aim of the game is to navigate your way around a number of locations slaughtering zombies with a range of weapons and picking up loot to spend at one of the many weapon huts where you can upgrade and buy more fire power. Housemarque has opted for the dual-analog approach, so you use the left stick to control your player and the right to control his torch, which you use to aim at the zombie hordes and light up some of the darker areas in the game where you'll find hidden loot.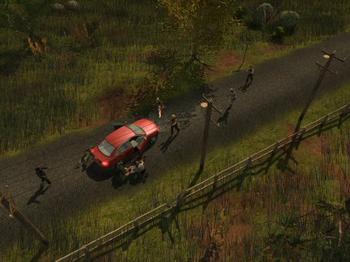 Continued overleaf...