Take to the virtual grid and emulate your heroes
Version reviewed - Wii

What is F1 2009?
F1 2009 is the official game of the 2009 FIA Formula One World Championship and the only game based on the popular sport to be released on console this year.

With the backing of GRID and DIRT publisher Codemasters behind them, developer Sumo Digital, whose pedigree in the racing genre includes PSN offering GTI Club+ and OutRun Online Arcade, has catered F1 2009 largely for the Wii audience by offering an accessible, arcade-style of gameplay rather than a deep simulation of the sport.

F1 2009 comes bundled with a Wii wheel, but it also has four other totally customisable control methods you can use, allowing you you to opt for the Wii Remote or Nunchuck, the classic controller, or the Logitech steering wheel. On the track it also caters for a variety of skill levels from beginners to more advanced players by offering a driver assist function, giving you help such as visual aids, that you can turn on or off.

From Ferrari and McLaren to the all-new Brawn GP team, F1 2009 covers all ten teams from the 2009 season, along with 17 authentically designed tracks. In addition to a Quick Race and Time Trial modes, you can compete in the three season long career mode, which covers all events from the 2009 Championship as you compete to rise up the rankings, or jump into the point-based championship mode. You can choose to race through practice and qualifying stages or jump straight into the main event, plus the option is there to fine tune your car by adjusting the likes of gear ratios, suspension and tyre settings.

Challenge mode tasks you with completing 70+ challenges ranging from overtaking a driver without making contact to passing as many checkpoints within a given time limit. Finally, two player offline split screen completes the game modes and allows you to customise your settings, tweaking everything from race length to the weather.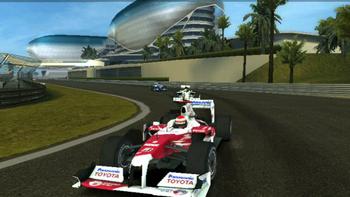 Gameplay impressions overleaf...