"Wax on wax off" to the electronical beats
In my house, Kinect is largely used by my wife for keeping fit, with the likes of Dance Central and Michael Jackson: The Experience providing a more entertaining alternative to the intense toning and weight loss programmes provided by titles such as EA Sports Active 2.0. The deluge of casual games, such as Kinect Adventures and Yoostar 2, have provided a few laughs with friends along my Kinect journey thus far, but I'm still craving for - like many other old skool gamers - a core gaming experience to take advantage of Microsof's impressive piece of technology, which has so far been totally under-utilised.

With E3 2011 promising so much from Kinect over the next 12 months for the core gaming crowd, with the likes of Ghost Recon Future Soldier and Mass Effect 3 looking to engage those who have so far been forgotten, it still all seems a long way off before we'll get to immerse ourselves in a truly cinematic action experience. The good news is there is one game that may fill that gap until the big hitters arrive; step forward Child of Eden.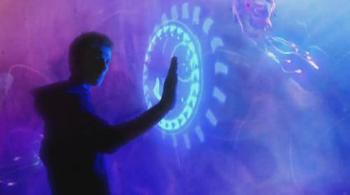 Child Of Eden is the brainchild of Rez creatorTetsuya Mizuguchi Of Q? Entertainment. Billed as a rhythm action game, it's essentially a shoot 'em up that explodes with colour and sound as you seek to destroy a variety of bizarre enemies that float and swirl around its kaleidoscopic world of indescribable patterns and digital art.

Continued overleaf...