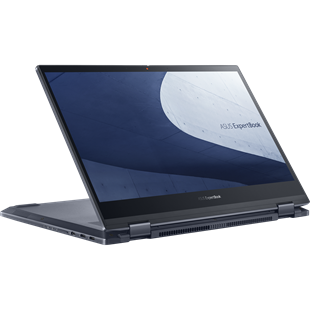 KEY POINTS
Ultimate mobility: Lightweight designs crafted from aluminum and magnesium-alloy that tip the scales from just 880 grams and as thin as 16.9 mm.
Primed to perform: Powered by an up to 11th Gen Intel® Core™ i7 CPU with Iris® Xe graphics, up to 64 GB of RAM and superfast Intel WiFi 6
All-day battery: Up to 17-hour battery life to power through a full working day, plus fast-charge technology for rapid top-ups
Business-friendly designs: Military-grade construction, AI-powered noise-cancelation technology, fingerprint sensor, webcam shield and TPM 2.0
London, UK, 7 September, 2021 — ASUS today unveil the full range of ASUS ExpertBook, commercial laptops. Full range ExpertBook products includes the ExpertBook B5 and B5 Flip 2-in-1 laptops, ExpertBook B7 Flip, ExpertBook B3 Flip, ExpertBook B1 to add to the top-end ExpertBook B9. ASUS commercial laptops feature the latest two-way AI noise-canceling technology and have been subjected to stringent testing that meets or exceeds MIL-STD 810H U.S. military-grade durability standards. ASUS also offers top-notch after-sales service, including up to 3-year global warranty, MyASUS app support and onsite service for most major markets and the new ZenCare quality assurance program.
ASUS ExpertBook B5 Flip
The new ExpertBook B5 laptops are built for business success in style, with a precision-crafted and minimalist chassis that pushes the limits of lightness. They are also set for stress-free travel with an amazing 14-hour battery life, and are engineered with many cutting-edge technologies to improve on-the-go work efficiency. These include an 11th Gen Intel® Core™ processor, AI noise cancellation and dual-SSD RAID support and ASUS NumberPad 2.0.
The all-new ExpertBook B5 models are also packed with features to protect personal privacy and business data, including a built-in fingerprint sensor and TPM 2.0 chip.
Business-friendly designs: Military strength, AI noise cancelation, fingerprint sensor and more
Life on the road is tough, so the latest ExpertBook B5 laptops are designed to both meet and surpass exacting industry thresholds — including the ultra-demanding MIL-STD 810H US military standard. This means they are built to survive every extreme, from freezing temperatures to the searing heat of desert storms, and from high-speed shocks to everyday bumps. They also undergo stringent in-house testing, including panel-pressure, shock and drop tests for an assurance of serious durability. Even the keyboard is resilient, engineered to resist everyday spills and splashes.
ExpertBook B5 laptops also level-up professional conferencing, with two-way AI-powered noise-canceling technology that employs sophisticated machine-learning techniques. The technology includes both an upstream function to filter noise around the speaker, and a downstream function to eliminate noise from the person at the other end of the conversation
ASUS NumberPad 2.0 is also an optional with the new ExpertBook B5 series. This is an LED-illuminated numeric keypad that is perfect for crunching numbers. Tap the NumberPad 2.0 icon on the top right of the touchpad to turn it on and tap the icon on the left to toggle between two brightness settings. Clever software allows the mouse pointer to be controlled, even when NumberPad 2.0 is activated.
Finally, business security is a watchword of the new ExpertBook B5 models. They benefit from robust security features to ensure confidential and private data does not leak out, including an integrated fingerprint sensor, a physical webcam shield and an optional TPM 2.0 chip to keep attackers away from private data. There is even an integrated Kensington Lock slot, making it quick and easy to secure ExpertBook B5.
ASUS ExpertBook B7 Flip
The 14-inch ExpertBook B7 Flip (B7402) is a mobile PC with superfast 5G connectivity, 16:10 touch panel and 360° flip design with stylus, offering enterprise users exceptional performance and versatility. Its 5G capability greatly improves mobile security and gives users the bandwidth and speed they require, especially when working remotely. It is powered by up to an 11th Gen Intel Core i7 processor with up to 64 GB RAM. The 16:10 FHD+ touchscreen has a maximum brightness of 500 nits and provides a much larger viewing area for more immersive computing. An optional QHD+ panel with 400 nits' brightness is also available.B7 is designed to enhance the work experience, with features such as AI noise canceling technology and Karman Hardon-certified speakers ensuring crystal-clear calls and video conferences. There are additional features such as the ASUS Private View privacy screen to protect sensitive information, a user status indicator that lights up whenever the user is busy, and ASUS ExpertWidget to allow users to customize their own hotkeys.
ASUS ExpertBook B3 Flip
ASUS ExpertBook B3 Flip (B3402) features a 360° hinge, a fast-charging garaged stylus, a front-facing HD camera and a 13-megapixel (MP) rear-facing camera. Designed for educational use, its unique hinge enables it to be used in laptop or tablet mode and the bundled stylus allows for smooth notetaking and sketching. The inclusion of two-way AI noise-canceling technology and noise-reducing cameras make the 14-inch ExpertBook B3 Flip ideal for online learning and video conferencing.
ExpertBook B3 Flip is powered by up to an 11th Gen Intel Core i7 processor with up to 16 GB onboard RAM and 32 GB upgradable SO-DIMM memory, and it includes 1 TB of onboard storage. Embedded WiFi 6 and ASUS WiFi Master technology ensures a fast and seamless wireless connection, and a built-in SD and nano-SIM card combo slot gives users the option of 4G LTE. On top of the military-grade toughness ASUS ExpertBooks are known for, the keyboard, touchpad and palm rest of ExpertBook B3 Flip are treated with ASUS Antibacterial Guard to keep frequently touched areas of the device clean and sanitary – limiting the spread of harmful bacteria.
ASUS ExpertBook B1
ExpertBook B1400 and B1500, two new slim, light, and highly mobile notebooks that are tailored for business, and designed as the smart choice for ambitious startups, education organizations and growing firms of all sizes.
Powered by up to the latest 11th Generation Intel® Core™ i7 processors, the beautiful, configurable, and budget-friendly ExpertBook B1 series models boast a contemporary design, effortlessly combine high performance with extensive customizations to empower every, plus fingerprint sensor, backlit keyboard, and a front webcam.
ExpertBook B1 notebooks also benefit from a high-speed, high-capacity dual-storage design, comprehensive connectivity compatible, and a display hinge that can be opened a full 180° for easy content sharing and collaboration.
ASUS ExpertBook B9
ExpertBook B9, the next generation of the 2020 Red Dot Design Award-winning mobile powerhouse that is proudly the world's lightest 14-inch business laptop.
The latest ExpertBook B9 models inherit all the strong features of the previous generation, engineered with the latest cutting-edge up to 11th Gen Intel®Core™ processors with built-in Intel Iris® Xe™ graphics for serious performance and visual excellence, RAID 0 and RAID 1 technology support, Thunderbolt™ 4 for flexible connections at warp speed, AdaptiveLock proximity sensor for ultrafast logins and security, and AI noise-cancelation technology for undisturbed video calls – perfect for the increasingly remote working patterns imposed by the current pandemic environment.
Despite these vast improvements in performance and functionality, ExpertBook B9 retains its prestigious record as being the world's lightest 14" business laptop1 – weighing a mere 880 grams. It also offers close to a full day battery life, up to 17-hours, it is good for days of real-world use between recharges.
Committed to creating a sustainable future, ASUS has also strived to make ExpertBook B9 an environmentally conscious choice. It is both Energy Star® 7.1-certified and rated by EPEAT™ Gold, offering an assurance of energy efficiency that reduces operating costs over the long term. Even the packaging is environmentally sound, with the accessory box able to transform into a laptop stand for instant elevation with an ecological nod.
ASUS ZENCARE
ASUS' continued commitment to provide businesses with the best laptop solutions extends to the newly announced ZenCare program. With ASUS ZenCare, the quality of devices are guaranteed, that if there were to be any technical defects in the first year of ownership, it is not only repaired for free, but ASUS will also give the user their money back!
For more information or to register into the program for free, customers can go to https://www.asus.com/uk/business/zencare/, to register their devices at the time they purchase their devices.
An individual will be able to register up to 5 products per year, whereas a company can register up to 20 products per year.
Further information - https://www.asus.com/uk/business/zencare/
UK Availability + Pricing
Model

Spec

Price (VAT incl.)

Available from

B1400CEAE/ B1500CEAE

i3/ 8G/ 256G

£599.99

Now

i7/ 16G/ 512G

£899.99

Now

B1400CDA/ B1500CDA

R3/ 8G/ 256G

£549.99

Dec 2021

B3402FEA

i3/ 8G/ 256G

£699.99

Dec 2021

i7/ 16G/ 512G LTE

£1049.99

Dec 2021

B5302CEA

i3/ 8G/ 256G

£729.99

Dec 2021

i7/ 16G/ 512G

£999.99

Dec 2021

B5302FEA

i3/ 8G/ 256G

£779.99

Dec 2021

i7/ 16G/ 512G

£1149.99

Nov 2021

B7402FEA

i5/ 8G/ 256G

£1199.99

Dec 2021

i7/ 16G/ 512G

£1349.99

Dec 2021

B9400

i7/ 16G/ 1TB

£1679.99

Now
Press Contacts
Further information and sample requests:

Hotwire PR

General enquiries:

ASUS PR
Notes to Editors
ASUS Education Website - https://www.asus.com/uk/Business/Best-for-Education/
ASUS Business Website - https://www.asus.com/uk/Business/
ASUS Business Linkedin – https://www.linkedin.com/showcase/Asus-Business
ASUS ExpertBook B5 Flip ASUS Expertbook B5 Flip B5302F | Laptops | ASUS United Kingdom
ASUS ExpertBook B3 Flip:ASUS ExpertBook B3 Flip B3402 | Laptops | ASUS United Kingdom
ASUS ExpertBook B7 Flip ASUS Expertbook B7 Flip B7402 | Laptops | ASUS United Kingdom
ASUS ExpertBook B9ASUS ExpertBook B9 B9400 | Laptops | ASUS United Kingdom
ASUS ExpertBook B1ExpertBook B1 B1500|Laptops & 2-in-1 PCs For Work|ASUS United Kingdom
Specifications
ASUS ExpertBook B5302CEA

ASUS ExpertBook B5302FEA

CPU

Intel® Core™ i5-1135G7 Processor 2.4 GHz (8M Cache, up to 4.2 GHz, 4 cores)
Intel® Core™ i7-1165G7 Processor 2.8 GHz (12M Cache, up to 4.7 GHz, 4 cores)

Operating System

Windows 10 Pro (ASUS recommends Windows 10 Pro)
Windows 10 Home

Memory

Up to 48 GB DDR4 3200MHz

DDR4 4/8/16 GB 3200 MHz onboard
DDR4 4/8/16/32 GB 3200 MHz DRAM Module

Storage

2 x M.2 PCIe® SSD, up to 2 TB SSD
SSD PCIe® 3.0 256 GB M.2 / Value
SSD PCIe® 3.0 512 GB M.2 / Value
SSD PCIe® 3.0 1 TB M.2 / Value
SSD PCIe® 3.0 1 TB M.2 / Performance

Display

FHD (1920x1080) 16:9, 300 nits, NTSC: 72%, Wide view, Anti-glare display
FHD (1920x1080) 16:9, 470 nits, NTSC: 72%, Wide view, Anti-glare display
FHD (1920x1080) 16:9, 400 nits, DCI-P3: 100%, Wide view

FHD (1920x1080) 16:9, 300 nits, NTSC: 72%, Wide view, Anti-glare display
FHD (1920x1080) 16:9, 470 nits, NTSC: 72%, Wide view, Anti-glare display
FHD (1920x1080) 16:9, 400 nits, DCI-P3: 100%, Wide view, Anti-glare display

GPU

Intel® Iris Xe Graphics

Interface

2 x Thunderbolt™ 4 Type-C® (supports PD3.0 & DP (4K UHD))
1 x USB 3.2 Gen 2 Type-A (support S/C)
1 x HDMI® 2.0b
1 x Headset combo
1 x Micro HDMI (for LAN only)
1 x Kensington® lock slot

Video Camera

1.0M 720P: HD camera with shield

Wireless

Intel Wireless on board
Dual-band 2x2 WiFi 6 (802.11ax) + Bluetooth® 5

Audio

AI Noise-Canceling Technology
2 Multi-Array Microphone with Cortana voice-recognition
dual speakers

Weight

1 kg with 33 Wh battery / 1 W Panel

1.11 kg with 33 Wh battery / 1 W Panel

Dimensions

309 x 210.6 x 16.9 mm

Battery

2-cell, 33 Wh Polymer/ 4-cell, 66 Wh Polymer

Security

Fingerprint (combo power button), TPM 2.0 (optional), Webcam Shield, Kensington Lock slot

Keyboard

Full-size, spill-resistant (66 cc), 1.5 mm key travel, backlit (optional)

Touchpad

Touchpad, ASUS NumberPad 2.0 (optional)

Manageability

ASUS Control Center, ASUS Business Manager, MyASUS

Stylus

N/A

Stylus MPP2.0 (optional)

AC adapter

USB Type-C®, 65 W AC Adapter, Output: 20V DC, 3.25A, 65W, Input: 100~240 V AC 50/60 Hz universal

Certificates

Energy star, EPEAT Gold, RoHS, FCC Compliance, BSMI, CCC, CB, TUV
SPECIFICATIONS

ASUS ExpertBook B1 Series (B1400 / B1500)

Processor

Intel® Core™ i5 1135G7 Processor

Intel® Core™ i3 1115G4 Processor

AMD Ryzen™ 5 3500U Processor

Operating system

Windows 10 Pro (ASUS recommends Windows 10 Pro)
Windows 10 Home

Memory

On-board 4 / 8 / 16 GB DDR4-3200 MHz dual-channel support

Memory slot

1 x SODIMM, supports 4 / 8 / 16 / 32 GB

GPU

Integrated Intel® UHD Graphics (Intel® Celeron®/Pentium®/Core™ i3 models only)

Integrated Intel® Iris Xe graphics (Intel® Core™ i5/i7 models only)

NVIDIA® GeForce® MX330 graphics (Intel® Core™ i3/i5/i7 models only)

SSD

128 / 256 / 512 GB / 1 TB PCIe® 3.0 SSD

HDD

1 TB 5400 rpm (7 mm), 2 TB 5400 rpm (7 mm)

Display

B1400

14.0" HD, anti-glare, 220 nits, 45% NTSC gamut

14.0" FHD, anti-glare, 220 nits, 45% NTSC gamut

14.0" FHD, value IPS, 250NITS, 45% NTSC gamut

B1500

15.0" HD, anti-glare, 220 nits, 45% NTSC gamut

15.0" FHD, anti-glare, 220 nits, 45% NTSC gamut

15.0" FHD, value IPS, 250 nits, 45% NTSC gamut

Interface

1 x Thunderbolt™ 4
2 x USB 3.2 Gen 2 Type-A

1 x USB 2.0

1 x HDMI

1 x RJ45 LAN

1 x MicroSD card reader

1 x Kensington Lock slot

1 x VGA D-SUB

1 x Audio combo jack

Video Camera

N/A

Wireless

WiFi 6 (2x2) + Bluetooth® 5.2

LAN

10/100/1000 Mbps

Audio

Built-in microphone / Built-in 2 W stereo speakers

Weight

1.45 kg (B1400)

1.73 kg (B1500)

Dimensions

323.4 x 215.65 x 19.2 mm (B1400)

358 x 236.5 x 19.4 mm (B1500)
SPECIFICATIONS ExpertBook B9 Laptop (B9450)

CPU

Intel® Core™ i7-10510 with Intel® UHD Graphics 620 (1.8 GHz, up to 4.9 GHz, 8 MB cache, 4 cores)
Intel® Core™ i5-10210 with Intel® UHD Graphics 620 (1.6 GHz, up to 4.2 GHz, 6 MB cache, 4 cores)

Intel® vPro™ technology support (optional)

Operating System

Windows 10 Pro (ASUS recommends Windows 10 Pro)
Windows 10 Home

Memory

LDDR3 8GB/16GB(2133MHz) on board, support max. 16GB

Memory slot

N/A

SSD

SSD 2 X M.2 PCIe x4 (SATA core lay) (Max 2TB X 2)

HDD

N/A

Display

14.0" FHD (1920x1080), sRGB 100% (NTSC:72%), LED backlit, Anti-Glare, Wide View, non touch 300 nits

GPU

Integrated Intel® UHD Graphics 620

Interface

2 x USB 3.1 Gen 1 Type-C (Thunderbolt 3)
1 x USB 3.1 Gen 2 Type-A
1 x HDMI
1 X micro HDMI for Lan chip
1 x Audio Combo Jack

Video Camera

N/A

Wireless

WIFI 6 (802.11AX) + Bluetooth 4.2 (Dual band 2x2)

LAN

N/A

Audio

Harman/Kardon
Built-in microphone / Built-in Stereo 2 W Speakers

Weight

Starting from 870g with Battery
SPECIFICATIONS ExpertBook B9 Laptop (B9400)

Processor

Intel® Core™ i7-1165G7 processor

Intel® Core™ i5-1135G7 processor

Operating system

Windows 10 Pro

Windows 10 Home

Graphics

Intel® Xe Graphics

Display

14" LED-backlit, IPS Full HD (1920 x 1080), 16:9 aspect, anti-glare screen, 400nits brightness display

4mm-thin bezel with 94% screen-to-body ratio

Wide 100% sRGB color gamut (NTSC: 72%)
IPS-level wide-view technology

Memory

8GB / 16GB / 32G 4266MHz LPDDR4x onboard (dual channel support)

Storage

Dual M.2 NVMe PCIe® 3.0 x4

RAID 0 / 1 support

Networks

WiFi

Wi-Fi 6 (802.11ax)

Bluetooth®

Bluetooth 5.0

LAN chip onboard with fixed Mac address

Wireless

802.11b/g/n dual-band Wi-Fi

Bluetooth 4.0

Connectivity

2 x Thunderbolt™ 4 USB-C™ (up to 40Gbps, DisplayPort and power delivery support)

1 x USB 3.2 Gen 2 Type-A

1 x HDMI

RJ45 LAN via micro HDMI port

Kensington® lock slot

Audio combo jack

Battery

65W AC adapter with fast charging support

66Wh, 4-cell lithium-polymer battery

33Wh, 2-cell lithium-polymer battery

65W AC adapter, Plug Type: USB Type-C

Output: 20V DC, 3.25A, 65W

(Input: 100-240V AC, 50/60Hz universal)

Cameras

720p HD camera with microphone; IR camera

Trusted Platform Module TPM 2.0 embedded security chip

Windows Hello with facial recognition software (requires IR camera) + Proximity sensor

Fingerprint sensor

Webcam shield

Kensington lock slot

ASUS Business Manager with secure drive setting and lock control to USB storage devices

Keyboard and TouchPad

Keyboard

Full-size, backlit, spill-resistant, with 1.5mm key travel

Fingerprint sensor with Windows Hello support

Touchpad

129 x 65mm

Glass-covered with integrated NumberPad; intelligent palm-rejection

Precision Touchpad (PTP) technology supports up to four-finger smart gestures

Audio

Array microphone with Cortana and Alexa voice-recognition support

Quad 360° far-field microphones (support AI noise cancellation)

2 integrated stereo speakers

Certified by Harman Kardon

Manageability

ASUS Control Center (optional)

ASUS Business Manager

MyASUS

Wake-on-LAN

Colors

Star Black

Size

Height: 1.49cm (0.59 inches)

Width: 32.0cm (12.60 inches)

Depth: 20.3cm (7.99 inches)

Weight

Weight:

0.880kg (1.94 pounds) with 33W battery

1.005kg (2.22 pounds) with 66W battery