Lian Li has introduced a pair of new brushed aluminium Mini-ITX cases. The new PC-Q27 and PC-Q28 cases allow users to build a Mini-ITX system but still utilise a selection of traditional desktop components such as 5.25-inch ODDs, 3.5-inch HDDs and PCI expansion cards. Both these new compact cases make use of Lian Li's new railing mount motherboard tray design and are available in either black or silver.
Lian Li PC-Q27
This is the smaller of the two new Mini-ITX cases. Lian Li describe it as "an ideal chassis for a small form factor office PC, HTPC, or gaming rig". The dimensions of this case are 200mm x 300mm x 240mm. It is a passively cooled design featuring plenty of vents on the underside and rear of the case, however it is possible to mount a 120mm fan in the bottom of the case in place of one of the HDD cages.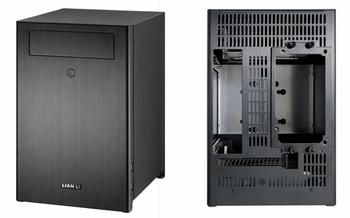 Other PC-Q27 specs to consider include the drive mounting options within the case. The options are configurable depending upon which drive bays and cages are installed. You can use up to three 3.5-inch drives with one of these drives using the 5.25-inch drive bay. At the bottom of the case is a 2.5-inch drive mount suitable for an SSD but you can add another SSD in place of a 3.5-inch drive in the front HDD drive cage if you wish.
The PCI slot in the PC-Q27 is a single slot and allows cards that are up to 195mm to fit.
Lian Li PC-Q28
The Mini-ITX PC-Q28 is a little bigger than the Q27 and measures 227mm x 305mm x 345mm. It is also over a kilo heavier, weighing in a 3.2Kg compared to the Q27's 2.1Kg net weight. Lian Li describe the Q28 case as "the ideal gaming, LAN or home server chassis". The extra space may be just what you are looking for if you want to build a Mini-ITX system which utilises a traditional PC double slot sized graphics card. Also this case allows for longer add-in-cards than the Q27, cards up to 290mm can be accommodated.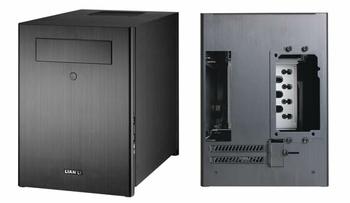 Looking at storage options, the PC-Q28 can hold up to seven hard drives in a combination of 2.5 and 3.5-inch sizes. The Q28 also comes as standard with active cooling, a 140mm fan resides in the bottom of the case and a 120mm fan expels warm air from the top of the case.
Beyond the differences in size, weight, drive capacity, cooling and PCI slot expansion capability the other notable difference between the two new chassis is that the larger Q28 has side mounted HD audio I/O ports alongside the two USB 3.0 ports both systems share.
If you are interested in purchasing one of these new cases they will be available here in the UK in June. Suggested retail prices for the PC-Q27 and PC-Q28 are £61.99 and £84.99 respectively. You also have a chance to win one of these cases by following the instructions on the Lian Li Facebook page. That competition closes at 6AM on Tuesday morning.