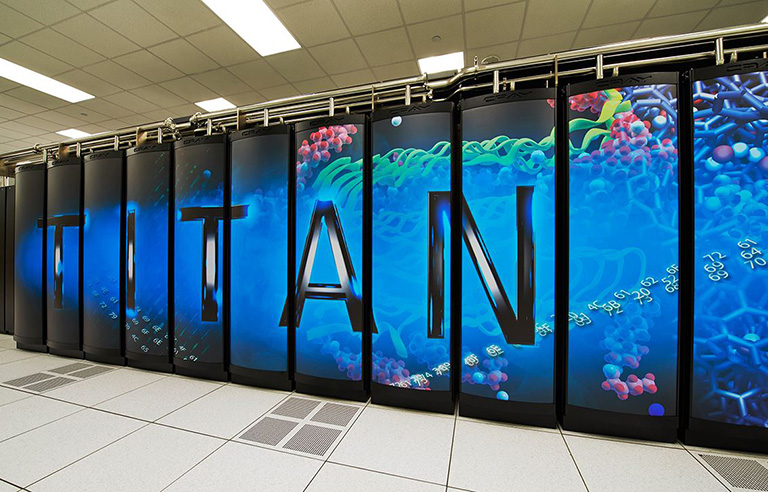 The upcoming Frontier supercomputer is reckoned to be almost 100x faster than 2012's Opteron- and Tesla-equipped Titan.
Cray and AMD have announced a partnership to build the most powerful computer in the world. Due to come online in 2021, the 'Frontier' supercomputer is expected to execute 1.5 exaflops (quintillion calculations per second). That heady number trumps the exaflop-plus processing potential of the Intel-based Aurora supercomputer commissioned by the US Department of Energy, which is also expected to be operational in 2021.
Putting the sheer potential into context, today's fastest supercomputer, the IBM-developed Summit, offers peak Linpack performance of 143 petaflops, which is around 1/10th of Frontier's alleged speed.
The total contract is worth $600m for system and technology development, AMD says, while Frontier will use the Cray Shasta architecture encompassing purpose-built Radeon Instinct GPUs and AI-optimised, custom Epyc CPUs.
In particular, Frontier will use a 4:1 GPU-to-CPU ratio, a custom, high-speed Infinity Fabric interconnect, HBM memory, and open ROCm programming environment for AMD's silicon.
What's not known is how many CPUs and GPUs Frontier will have, whether the claimed performance is, indeed, via the industry-standard Linpack benchmark, and who the likely recipient of such power will be - most likely a US Department in some capacity.
Frontier will, like most supercomputers, be used for extreme weather forecasting, advancing medical research, amongst other incredibly compute-intensive problems.
Aurora vs. Frontier in 2021. Let the supercomputer battle commence.