The Bluetooth Special Interest Group (SIG) has released more specifics about the upcoming Bluetooth 5 standard. Improvements to the low-energy communications standard sound rather impressive, given that it won't eat up any more energy/battery power. The Bluetooth 5 release is projected for late 2016 or early next year.
Headline improvements coming to Bluetooth 5 are:
4x range
2x speed
8x data capacity
The above improvements are obviously valuable to users and would-be users of Bluetooth 5 technology. This low-energy communications standard already plays an important part in the IoT and the dramatic improvements in its capabilities will cement that status. "Bluetooth 5 will transform the way people experience the IoT by making it something that happens simply and seamlessly around them," said Mark Powell, executive director of the Bluetooth SIG. "Increasing operation range will enable connections to IoT devices that extend far beyond the walls of a typical home, while increasing speed supports faster data transfers and software updates for devices." As for the greater data capacity on offer, that will help in the implementation of richer IoT experiences, said Powell.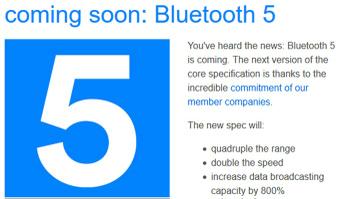 Beacons are expected to be a major growth driver for Bluetooth 5. ABI Research predicts there will be 371 million Bluetooth enabled beacons shipped by 2020. These devices will help roll out location based services for home automation, enterprise, and industrial markets. Usage examples provided include beacons in airports to provide hassle-free navigation, asset tracking in warehouses, plus smart-building and smart city infrastructure implementations.
The last major version change, the Bluetooth 4.0 specification, was released nearly six years ago. Bluetooth 4.2 was announced in December 2014, improving user privacy, boosting transfer speeds and transfer capacity, and lowering overall power consumption.