ASUS has launched a new external sound card and headphone amplifier named the Xonar Essence STU USB. The Taiwanese firm claims that the new external sound card, which hooks up to your computer via USB, offers "audiophile-grade performance" with "120dB SNR and asynchronous USB audio with a 600ohm headphone amplifier and swappable Op-Amps".
The ASUS Xonar Essence STU USB is based upon the "acclaimed" Xonar Essence ST/STX internal sound cards and was designed to bring the same "premium audio quality" to notebooks and PCs without room for internal soundcards. ASUS has managed to externalise a similar set of audio components to the Xonar Essence ST/STX in an attractive USB interfaced external box.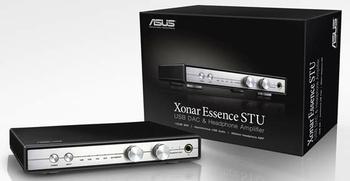 Quality precision audio
ASUS says that the "clean, clear, and low distortion sound with 120dB SNR" sound is delivered thanks to a careful choice of components and "exacting hardware design". For instance the components include the "audio industry-leading" Texas Instruments PCM1792A DAC and TPA6120A2 headphone amplifier, which supports up to 600ohm impedance. Also the audiophile-approved WIMA FKP2 and Nichicon Finegold capacitors are equipped for a balanced and rich sound. With regard to the PCB design; the layout is in a balanced mirrored configuration to provide "accurate reproduction of all sound sources and minimal component crosstalk, or interference".
For use with professional audio software the ASUS Xonar Essence STU USB has full ASIO support to ensure jitter-free sound. Precision clock tuning technology helps keep the sound reproduction accurate. The installed Texas Instruments NS-LME49720 and NS-LM4562NA Op-Amps support lively and detailed spacious sound but this external USB sound card has room inside for three swappable Op-Amps to give you your own preferred tone.
Interfaces and external controls
Any external soundcard usually has the advantage of easily tweakable hardware knobs and switches on the box faceplate with ports and connections being easy to reach - this is also true of the ASUS Xonar Essence STU USB. Users will find the front panel sports quick access knobs offering separate volume controls for adjusting speaker and headphone levels. Also on the front panel are power and input selector switches, a 6.3mm gold plated headphone socket and LEDs showing what input/outputs are in-use.

On the back of the Xonar Essence STU, which can be laid flat or stood vertically with the supplied stand, you have stereo RCA outputs, two digital inputs, and an auxiliary in. The gain switch on the back panel is used to cater for different kinds of headphones and headsets. The USB cable and power supply are also connected via the back panel.
ASUS has been busy with its soundcard products recently. A fortnight ago it announced both the Xonar U7 USB Soundcard and Headphone Amplifier and the ROG Xonar Phoebus Solo internal PCI express gamer's sound card. The new Xonar Essence STU USB is not yet listed for sale or on the ASUS Xonar website.