According to a Korean technology news source LG Display has developed a foldable display product and is preparing the manufacturing facilities for its mass production. The first customer for these screens is going to be a 'global software business' based in the US. ETNews quotes 'many people in the industry' as the sources for this story.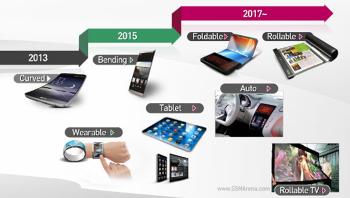 LG Display roadmap
The unnamed global software company which is to buy up LG Display's first batch of foldable displays aims to "challenge Samsung Electronics' and Apple's strongholds in high-end Smartphone market," says ETNews. The concept behind the resulting 'foldable smartphone' is yet to be finalised, let alone the practicalities of producing and selling the product. Despite the liquid-state of the plans, the sources suggest that early 2016 will be when the first foldable smartphones will launch.
We have previously seen foldable displays teased by Samsung. LG and Samsung often appear to be very close in their display tech developments. ETNews says that the global US company weighed up the foldable display tech from both companies before choosing LG. Having secured this contract LG is investing hundreds of million dollars in manufacturing facilities at Gumi, Kyeongbuk.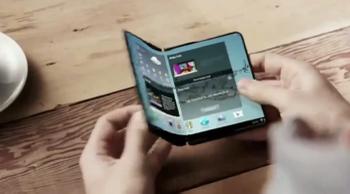 Samsung promotional foldable display image
A few technical details about LG's foldable display were mentioned in the report. It will be a flexible OLED display which will combine with a plastic board material. The board will presumably give the product the right balance between flexibility and firmness to not be too far removed from the touch screens we are used to. The plastic board will be able to be "folded and unfolded more than 100,000 times" suggests the sources.
Samsung and the 'global US business', using LG Display tech, will both launch foldable smartphone products in January/Feb 2016 the sources say. It sounds like we might get products teased/launched around the CES and MWC events early next year. When we first heard about flexible display tech, I think most people were excited about the 'foldable' possibilities, rather than the types of fixed-shape flexible displays equipped in the Samsung Edge and LG Flex smartphone series we have seen so far.