Nintendo has surprised industry watchers by launching a new handheld console based upon the 3DS games console but with the stereoscopic effect slider removed. Also, despite possessing dual screens the new device is not a clamshell design but a wedge shaped slab. The new model is called the Nintendo 2DS and is being marketed at $129 in the US and will be available for £109 in the UK.
The 2DS is then, a cheaper entry level into 3DS handheld gaming without the stereoscopy which some people found caused headaches and/or visual problems and meant that health warnings for young children (6 or under) had to be flagged up in games. Also it must be noted that stereo speakers, as present on the 3DS and 3DS XL are replaced with a mono speaker on the 2DS but stereo sound is still available via the headphone socket. The new 2DS boasts full software compatibility with the 3DS and 3DS XL but just skips the 3D viewing effect, it can also play most Nintendo DS games.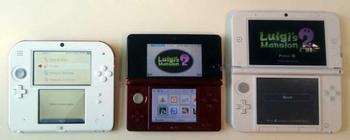 Side by side: 2DS, 3DS, 3DS XL
The console redesign doesn't make the 2DS very pocketable compared to most of its predecessors. The tombstone shaped Nintendo 2DS is however designed into a wedge shape so that the upper screen is higher up when the unit is placed flat on a table. The new hardware design will afford Nintendo room to make the 2DS at a more attractive price to parents of younger children and remove some of the eye health worries of 3DS gaming.
The Nintendo 2DS will be available from 12th October in the US and the UK, that's the same date as Pokemon X and Y are released. US pricing has been set at a recommended $129.99. Meanwhile in the UK GAME are accepting pre-orders of the console for £109.99. Initially the console will be available in black & blue or white & red colour combinations.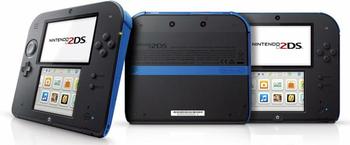 Reggie Fils-Aime, Nintendo of America's president and COO said of the newly announced 2DS console "Today we're making those unique Nintendo experiences more accessible and affordable. However you play and whatever you play, Nintendo has you covered."
Wii U price cut news
We've had some big Wii U price cuts in the UK from retailers like ASDA wanting to shift stock but now Nintendo US has issued notice of an official price cut of $50 off the Deluxe Set with 32GB of storage, bringing the recommended price down to $299.99. Also Big N announced a limited-edition Wii U bundle featuring The Legend of Zelda: The Wind Waker HD would launch on 20 September.