Back in July 2015 we noted Mad Catz was enduring serious financial troubles and the firm came clean to reveal it needed Rockband 4 to be a resounding success in order to stay afloat. Rockband 4 would be co-promoted with Harmonix and it hoped that many a musical controller would be flogged alongside the game. Unfortunately the make-or-break plan didn't succeed, and just ahead of the weekend Mad Catz announced its voluntary chapter 7 bankruptcy and company liquidation.

In its struggle to stay afloat Mad Catz sold off Saitek in September last year. It sold the simulations game controller specialist to Logitech for $13 million. That's not such a good deal as it bought Saitek for $30 million in 2007. Nevertheless it must have given the board and investors some breathing room and was a key part of the strategic alternatives to bankruptcy last year.
Gaming news site Polygon says that US chapter 7 bankruptcy isn't like the recoverable chapter 11 variety. It leaves no way left for Mad Catz to reorganise, with the firm completely closed, employees laid off, and assets all for sale. Karen McGinnis, President and Chief Executive Officer, stated that, "Regrettably and notwithstanding that for a significant amount of time the Company has been actively pursuing its strategic alternatives, including various near term financing alternatives such as bank financing and equity infusions, as well as potential sales of certain assets of the Company or a sale of the Company in its entirety, the Company has been unable to find a satisfactory solution to its cash liquidity problems."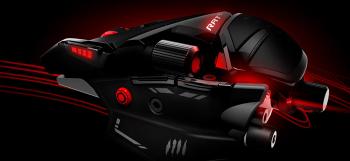 Mad Catz had a long history in making game controllers and it indeed had some 'mad' or adventurous designs in its portfolio. The firm started trading in the 16-bit heyday of 1989. The last time we at HEXUS saw new products from Mad Catz was back at CES 2016, just over a year ago, where it showed off the R.A.T.1 three-piece mouse and a couple of headsets.