A new dedicated games controller setup targeting Farming Simulator 15 players has been revealed and is now open for pre-orders. Mad Catz/Saitek went live with pre-orders for the farm game peripherals yesterday. The tractor-esque controller array will be made available from autumn this year for both PC and Mac Farming Simulator 2015 players.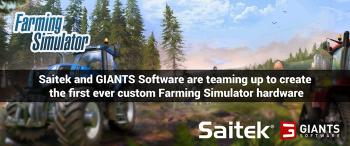 Saitek must have seen pent-up demand for a more full Farming Simulator experience complemented by an array of dedicated peripherals. I am referring to it as an 'array' as there are three components that Farming Simulator users will lust after to provide a fuller agricultural simulation, but Saitek has modularised them to provide both placement configuration possibilities and pricing options.
The games peripheral maker boasts that with its peripherals you can "bring your tractor home, without the mud". Interested gamers have a choice of buying the dedicated wheel and pedals for $149.99, the vehicle side panel with loader stick for $149.99, or all of the gear for $299.99.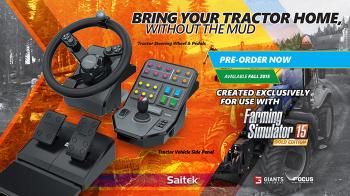 Saitek says that its Farm Simulator wheel with 2m USB connector cable offers a "properly tilted, centre-sprung wheel with 900 degrees of rotation". You can see from the pictures that the wheel is graced by a removable turn knob for easier one-handed turning too. The wheel is said to offer a low profile ergonomic design and clamps to a surface such as a desk with ease. The wheel also includes twin analogue push sticks, 4-way hat switches and ergonomic trigger buttons round the back.
The pedals, which can't be bought separately, connect to the wheel peripheral via a 1.8m cable. Their angular travel "is set to 20 degrees to give you utmost control," we are told. One is the throttle and the other the brake pedal.
Saitek's Farming Simulator Vehicle Side Panel for PC and Mac looks a pretty complicated bit of kit. The peripheral is designed to "command it all" including the ability to switch tools, activate cruise control, operate your lights, view your map and PDA, interact with ranch hands, and even check your finances with the push of a button.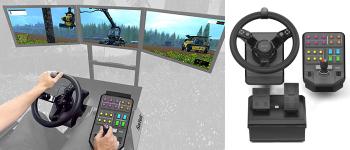 It is equipped with more than 25 programmable buttons, an Up/Down/Left/Right/Twist Action and Mode Button Loader Stick (for intuitively controlling things such as tree harvesters, cranes, chainsaws, chippers, trailers, and more) and a speed dial. Again it is built with a secure desk clamp to keep it rock steady even under the most demanding farm sim conditions. This peripheral connects via its own 2m USB connector cable.
The Saitek Farming Simulator controllers will be available as mentioned above in the US. European farm sim enthusiasts will have to wait a little longer for pre-orders to open and the peripherals will only be available in a Farming Simulator GOLD 15 bundle. There will be more details at E3.