PopCap Games' Dublin office is to close with the loss of 96 jobs. Restructuring plans lead to 50 PopCap employees being laid off in Seattle last month and at that time the company warned that it would be evaluating "the future of our PopCap office in Dublin, Ireland". Now it seems like the evaluation is finished and the verdict is that PopCap Dublin is surplus to requirements.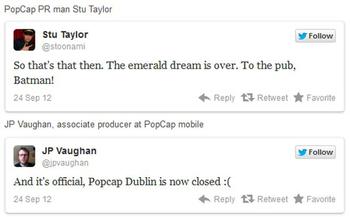 The reasons given by PopCap for the Seattle PopCap "Reduction in Force" and the Dublin office "evaluation", announced at the same time, is that the market has changed. "In the past year, we've seen a dramatic change in the way people play and pay for games. Free-to-play, social and mobile games have exploded in popularity. That happened fast. Surprisingly so. The change in consumer tastes requires us to reorganise our business and invest in new types of games on new platforms. It's a completely different world from when we started" said PopCap co-founder John Vechey. "There's also an economic component to the reorganisation. To stay in business, we need to manage costs, improve efficiency and maintain a profit" he added.
Mr Vechey also sought to let readers know that new parent company EA Games had no hand in the redundancy decisions. "The decision to reorganize was 100 percent made by us, with no pressure from EA." In fact EA may come to the rescue for some of the people losing their jobs; for instance, last month in Seattle "...some of the people affected by the reorganization may be retrained and reassigned to other jobs in the EA studios. If we didn't have EA behind us, the cuts would have been worse." And also this month in Dublin, the word from MCV is that "PopCap has provided outplacement support and many employees have offers in other parts of PopCap, at EA or new opportunities with technology partners in Ireland". The fact that EA has is creating 300 new jobs at its European Customer Experience Centre in Galway is probably not very relevant to the new Dublin jobseekers but is a consolation to the Irish economy in some way.
PopCap's senior worldwide PR director Gareth Chouteau also told MCV that "Worldwide, PopCap is still growing, and intends to continue hiring and developing current staff. We will continue to invest in new games, platforms, and markets while we expand the reach of hit franchises like Bejeweled and Plants vs Zombies".