Nvidia has announced a trio of popular AAA PC games are coming to its GRID streaming service over the next few weeks. The titles, coming out on 'GRID Tuesdays' include; Saints Row IV, Alan Wake and Metro: Last Light Redux. Saints Row IV is this week's new release, Alan Wake will arrive on the platform next Tuesday (24th Feb) and Metro: Last Light Redux will arrive on Tuesday 3rd March. Including these three AAA titles Nvidia GRID will host a total of 40 games. The new trio of games are all popular and well regarded, gaining many an Editor's Choice and Game of the Year award between them.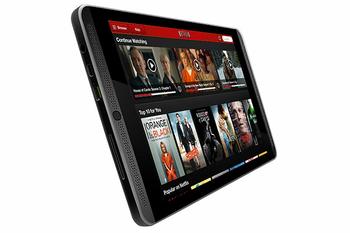 The Nvidia GRID game steaming service has been likened to Netflix, but for games. Nvidia alludes to this comparison saying it is "like the movie streaming you're used to, optimized for games". The ever growing PC games library can be accessed (game streaming) using your SHIELD handheld or tablet to play powered by "a gaming supercomputer in the cloud".
Currently Nvidia's GRID service is available in the U.S., Canada, and Western Europe – but not Germany. You need "at least a 10Mbps connection to enjoy the service" and Nvidia has a game GRID server in located Ireland to help with latency for European users.
Currently the GRID Gaming Service is free to all SHIELD device users. Interested SHIELD owners, with fast enough connections in the applicable countries, can enjoy the soon-to-be 40 games on demand whenever they wish via the SHIELD Hub app, downloaded from Google Play.
However crunch time is coming, as Nvidia notes,the service will be free "at least until 30th June". Will we see the industry's usual modus operandi of pricing a service far too high initially then, after everyone has deserted/quit using it, coming back to the market with an acceptable pricing structure? What do readers think would be an acceptable GRID subscription price?