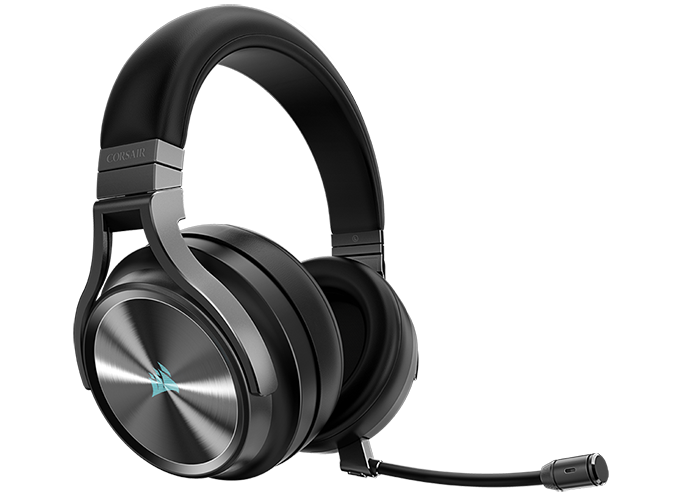 Corsair isn't short of choice when it comes to gaming headsets, but recent releases have, in our opinion, struggled to break free of the clichéd gaming design, with ostentatious aesthetics that you wouldn't really want to be seen wearing outside of the house.
Fortunately, the manufacturer has recognised that users crave sleeker, premium designs and is responding with a new flagship headset dubbed the Virtuoso RGB Wireless SE. Priced at £180 and described by Corsair as its "most ambitious audio product to date," the new cans promise premium materials, elegant design, high-fidelity sound and the ability to connect to "virtually any device." Sounds promising, so let's get stuck in.
Design
First impressions are hugely positive. From the moment you remove Virtuoso RGB from its box, you can sense that Corsair has really made an effort in terms of build quality and aesthetics. The headset feels luxurious from the off, thanks in no small part to a shift in construction materials. In contrast to the plasticky Corsair headsets of yesteryear, Virtuoso RGB employs durable machined aluminium whose diamond-cut edges shimmer in the light.
These are a stylish set, and not at the expense of comfort. The band and ear pads are filled with memory foam and clad in synthetic leather, making for a snug fit that doesn't apply too much pressure despite the 360g weight, and the notched adjustment mechanism makes light work of finding the optimal size.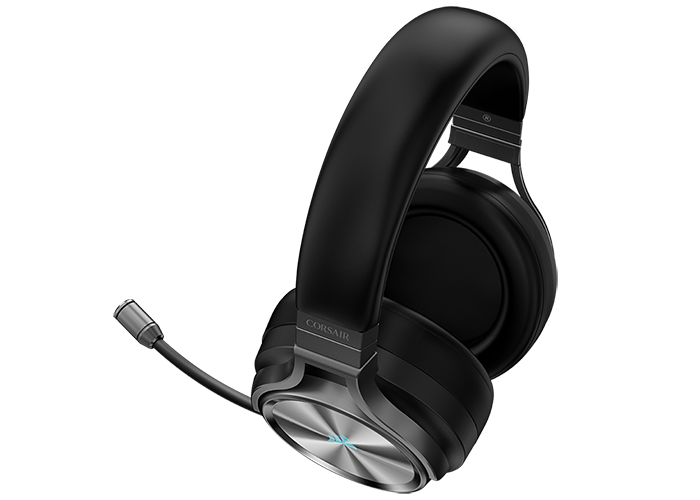 Corsair's gunmetal grey colour scheme works a treat, yet if the price tag is giving you cause for concern, a non-SE variant will be introduced at £150 in a choice of black or white. Both models offer the same sound output, but the £180 SE benefits from a detachable broadcast-grade 9.5mm omnidirectional microphone (compared to a 4mm mic on the regular set), micro-perforated RGB lighting, the premium aluminium earcup design, and a padded storage pouch.
Whether such niceties are worth the £30 premium is a case of personal preference, but of all the additional goodies, we will say that the micro-perforated RGB lighting is the least convincing. The idea, says Corsair, is for the lighting to shine through the aluminium plate, and then 'virtually disappear' when turned off to create a seamless finish. That's all well and good, but by using a perforation process, the lighting ends up looking pixelated and not quite right. The last thing we expected was for Corsair's sails logo to suffer from jaggies, and though the spun-finish of the aluminium earcups is extremely tidy with the lights disabled, they attract fingerprints and smudges at an alarming rate. Keeping them clean isn't straightforward, and we've never quite understood the need for RGB lighting on a wireless headset; is the illumination really worth a drop in battery life?
Battery Life, Connectivity and Controls
Lengthy gaming sessions are well catered for, as Corsair reckons the built-in lithium-ion battery is good for up to 20 hours of action (presumably with the RGB disabled), and it's great to see a USB Type-C port for charging, as well as a 1.5m braided Type-C to Type-A cable included in the box. A braided 3.5mm audio cable with gold-plated connectors and a rather large 2.4GHz USB dongle complete the bundle, however we do feel as though Corsair has missed a trick by not updating its latest headset to include Bluetooth connectivity as standard.
Instead, connectivity options include wired USB (required for 24-bit/96kHz high-resolution audio support), wireless at up to 60ft using the supplied dongle and Corsair's 'Slipstream' implementation of 2.4GHz WiFi, or the more traditional 3.5mm audio port. Unfortunately, that means no support for the growing number of mobile devices that have jettisoned the 3.5mm headphone jack in favour of Bluetooth. A shame, really, as Virtuoso's stylish design and detachable mic makes it a headset that ought to be equally well suited to mobile.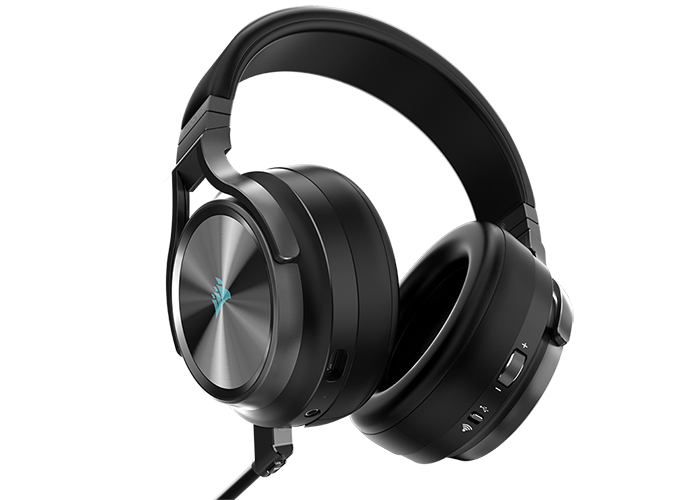 Dressed-up as it may be, this remains a PC gaming headset first and foremost, and that means a familiar set of controls. Moving between wired and wireless is as simple as toggling a switch, the volume wheel has a good amount of resistance and a quality feel, and a short press of the button on the microphone arm will toggle the mic on/off, with a red LED providing at-a-glance status. A longer press can be used to toggle sidetone, but you'll need to visit the iCue software to adjust sidetone volume (allowing you to hear your own voice when speaking into the mic), customise lighting effects, or enable the 7.1 virtual surround which, as far as we can tell, is only compatible with PC.
PlayStation 4 wireless support is limited to stereo, yet while Corsair has most of the gaming essentials covered, we'd liked to have seen Virtuoso RGB take a smarter approach to other usage scenarios. There aren't any on-device controls for music playback, for example, and the built-in accelerometer that is designed to shut down the headset when not in use takes a whole 10 minutes to kick into action. The inactive time period can be reduced to a minimum of one minute in the iCue app, but we see no reason why the headset can't switch off or at least mute the moment it is removed from one's head.
Sound Quality and Summary
That brings us neatly onto sound quality, and specifically the 50mm neodymium audio drivers that have been built from the ground-up exclusively for Virtuoso RGB. Corsair claims 'the same level of manufacturing precision as high-end audiophile headphones,' however the proof is in the listening, and while sound quality is good, it lacks the punch we come to expect from a gaming-first solution. Though some might prefer the balanced approach, the headset struggles to deliver deep bass, and at the other end treble isn't as crisp as we'd like, resulting in an overly warm sound that's short on separation.
Tweaking the equaliser in iCue does help proceedings, but out of the box, Virtuoso RGB sounds decent enough for everyday gaming, just don't be fooled into thinking they can match a high-end audiophile set. What's more impressive is the 9.5mm omnidirectional microphone, which offers excellent vocal clarity that's a clear step-up from generic gaming solutions.
Bottom line: the absence of Bluetooth prevents Corsair's latest from living up to its billing as a versatile all-rounder, but as a gaming-first solution, Virtuoso RGB delivers high-res sound, USB-C charging and a high-quality mic in a stylish design.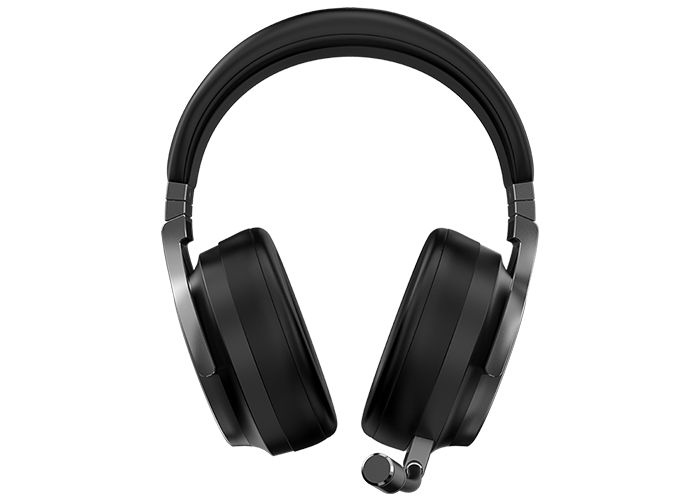 The Good

The Bad

Corsair's most stylish headset to date
High-quality detachable mic
Support for high-res 24-bit audio
USB-C charging
Comfortable design

No Bluetooth connectivity
Default sound profile lacks punch
Perforated lighting looks jaggy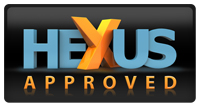 Corsair Virtuoso RGB Wireless SE
HEXUS.where2buy*
The Corsair Virtuoso RGB Wireless SE gaming headset will be available to purchase from Scan Computers.
HEXUS.right2reply
At HEXUS, we invite the companies whose products we test to comment on our articles. If any company representatives for the products reviewed choose to respond, we'll publish their commentary here verbatim.